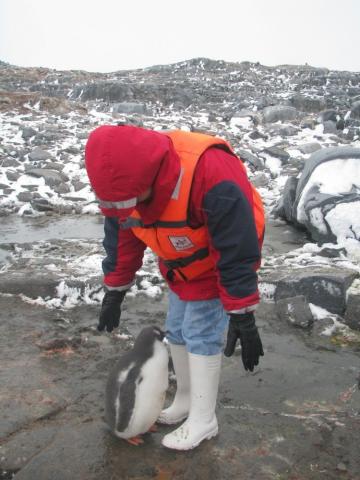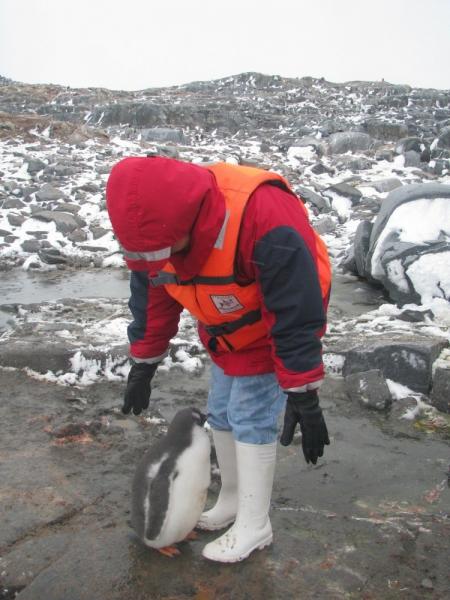 The next day, we had one more landing on Deception Island, which is actually the rim of an old, but recently active - 1997- volcano. The caldera of the enormous volcanic cone was flooded years ago when a small section of the rim fell into the sea and the ocean rushed in. We had been told we might be able to go swimming in a pool fed by hot springs heated from the geologically active earth below.
Our ship arrived early in the morning at the narrow and only navigable entrance into the caldera of the volcano. However, the wind was gusting to 40 knots and the captain was tentative about attempting to slip through the narrow opening that was guarded on both sides by shear rock cliffs. He was concerned that an unpredictable gust might blow us onto the rocks. After waiting outside the entrance for about an hour, another smaller boat that was also waiting to go in decided to give it a go. The smaller boat got through and made a bee line for the hot springs. Our boat followed but we lost our place in line for the hot springs. Because only 40 people can land at any one time at any one spot on Antarctica, we went instead to a black sand and cinder beach inside the caldera.
Our plan now was to hike up the wall of the crater rim and get some views of the island and surrounding sea. Almost nothing was growing on this scorched earth and there was very little ice, snow and no penguins. At the top of the ashy, cinder hill that led up from the beach, we came to the remnants of smaller but more recently active cones. The crest of the hill from the beach ended abruptly with sharp drops into the pits of the more recent volcanic cones. The crests of the cinder hill and the rims of newer volcanoes were very granular and about as stable as your average sand dune. The views were stark, dramatic and a little scary. The wind was also howling at the top making me nervous about standing too close to the unstable rims. It was quite a march of the red-jacket penguins up and down the black hills.