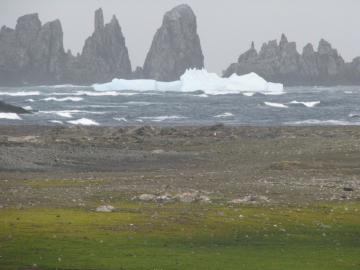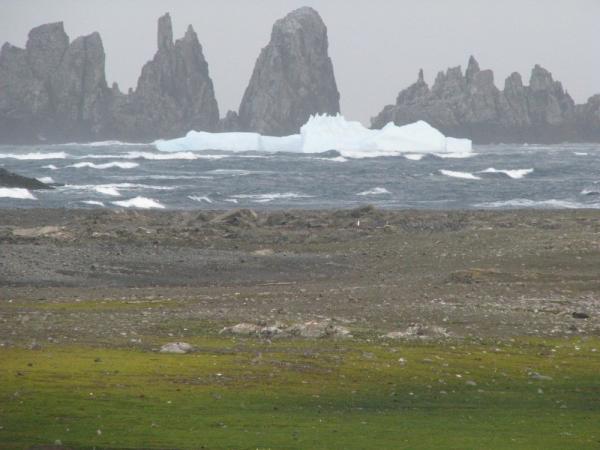 Our first stop in the area of Antarctica was actually the South Shetland Islands, which are considered to be sub-Antarctica. On a map, the South Shetlands look to be very close to the continent but I think technically they are not considered part of the continent. These islands do, however, get iced-in in winter and at that time if viewed from space would appear to be part of the expanded Antarctica continental ice shelf.
The day after our first landing, we had our second landing at Port Lockroy. Port Lockroy is located on an island that is off the Antarctic Peninsula and more clearly part of the continent just as Long Island would be considered part of North America. Port Lockroy used to be a research station for Britain but is now a souvenir shop. Can you believe it, a souvenir shop in Antarctica? Sometimes, I don't like tour groups because the mandatory stops at souvenir shops are too long. Some spend more time at the souvenir shops then they do seeing the sights that I came to see. I remember thinking before embarking on this trip that "at least this tour group won't be able to stop at some tacky tourist shop in Antarctica." Wrong!!
The good news is that the tourist shop was pretty nice as it felt like a wilderness outpost. And, there were some adorable penguins to look at and a nice view or two. We also didn't have to stay too long as the Zodiacs were coming and going from this stop to another non-tourist-shop landing on the other side of this small island.
The penguins here were even friendlier than those at the first landing point. Several penguins waddled over to Janice looking for food or caresses from its mother or father. (Tourists are not allowed to feed them.) I guess they thought Janice looked like a red penguin in her parka and boots. The chick kept hanging around and eventually started pecking at her boots and jeans to see if they tasted good enough to eat. Then, it came over to me and did the same thing. We learned also that if you flap your arms, the young penguin will start to flap his arms/fins/wings, too.
In the afternoon of the second landing day, we were supposed to go to another island, which is a research station manned by Kryzackistan (of all places). However, they were low on vodka and cancelled our ship's invitation to land. Instead of landing at some other place, our planning director decided that we would go on a Zodiac tour of some ice bergs. Good decision!!
There was a good field of ice bergs floating nearby. We got all bundled up again, like you would do to go skiing on a cold day. There was a little snow falling and some ice pellets like the first day. Once we started to get close to the ice bergs, you forgot about the falling ice and snow. The ice bergs up close were fabulous. Many had a blue inner glow that looked like there was some kind of blue neon light inside. All of the bergs had a similar blue glow under the water where you could see the outline of the berg below the water. Sometimes, the blue under the water extended far out from the base of the ice above the water.
The Zodiacs plowed through the icy water, which was occasionally littered with small chunks of ice that almost completely covered the surface of the water. We went up close to some of the bergs, so close that you could have touched them if you were brave enough to lean over the slippery sides of the Zodiac. No one did that, but the wily Zodiac did bump into the sides of a berg or two as the driver tried to get as close as possible. A couple of bergs had some very large leopard seals relaxing on the flat surface of a hefty berg. All the while, other seals and penguins could be spotted here and there frolicking in to cold blue waters.
This ride amongst the ice bergs may have been the highlight of the whole trip.