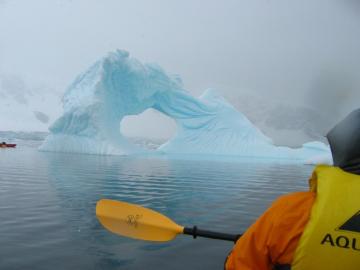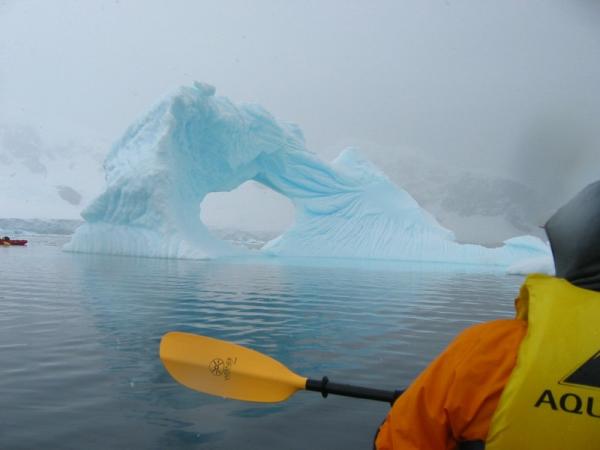 Antarctic Peninsula
Gerlache Strait
Spigot Peak (continent landing) 64º39' S 62º34' W
Danco Island 64º44' S 62º37' W
Errera Channel
Paradise Bay/Almirante Brown (continent landing) 64º54' S 62º52' W
Lemaire Channel 65º04' S 63º57' W
Neko Harbour
Danco Island is a one-mile long island which lies in the southern part of the Errera Channel, off the west coast of Graham Land. Danco Island was first charted by Gerlache and is named for the geophysicist who died during the Belgica expedition of 1897-9. Gentoo penguins breed here. Snowy sheathbills, kelp gulls and blue-eyed shags may often be seen as well.
Andvord Bay is a 15 mile-long fjord that cuts east into the Antarctic Peninsula. The average width of the peninsula at this point is 30 miles; the Weddell Sea is just over the mountains. This site is named for the floating whale factory ship Neko, which operated in the South Shetlands and Antarctic Peninsula from 1911 to 1924, and often used this bay. There is an unmanned Argentine refuge on the site. In Neko Harbor, listen and watch for the sounds and sights of active tidewater & alpine glaciers that surround the bay. We will be offering a walk up to a view point on an ice dome over looking the glaciers of Neko Harbor. This is another landing on the continent of Antarctica.
*
Early wake up call at 5AM, landing at Spigot Island, watched for an avalanche; many penguins on the way. After the breakfast, kayak around the island; real icebergs around the kayak and penguins jumping in the water.
After the lunch, instead at Neko island (too much ice) went to Paradise Bay, where Chilean base is, but no visit to them (too complicated, many political issues!?).
Zodiac cruise for an hour. Another kayaking.