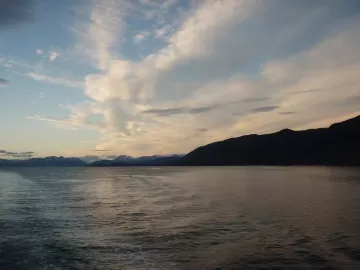 At Sea, the Drake Passage 61º08' S 61º07' W
Barrientos/Aitcho Island 62º24' S 59º475' W
The ice cliffs mountains of the South Shetland Islands represent most visitors' first glimpse of Antarctica. Separated from the Antarctic Peninsula by the Bransfield Strait, this 540 kilometer long string of eleven main islands and many smaller rocks lie northeast-to southwest across the southern end of the Drake Passage. The Shetlands are a great contrast to many visitors black-and-white notions of how Antarctica might appear. This is warmest, wettest, and most colorful part of the continent. The species diversity is enormous. Historically, this region was the focus of extensive sealing operations in the 1820's.
Skipped breakfast and lunch, still in bed. Later on, felt much better; attended a kayak briefing in the Library. Got all equipment by Dan and Andy. After the dinner - like a new! Feeling great. Already by the South Shetland Islands, through English Strait. Boat landing and extended walk at Barrientos /Aitcho Island.
First encounter with the penguins – they have right off. Saw a king penguin, very rare situation for this part of Antarctica. Poor guy, trying to make connections with others but no success. Later on the ship saw the video that one of the passengers took at the previous tour about this penguin following the gentoo one and trying to mate! Walked to the other side of island to see sea lions – all at sleep. Walk through the creek of fresh water and empty egg shells. Newly born penguins under the parents looking for food. One penguin playing with the stick, while the others are stilling the stones from the others trying to (re)build their own nests.
Dr Maureen's birthday, great ice-cream cake for all after dinner.