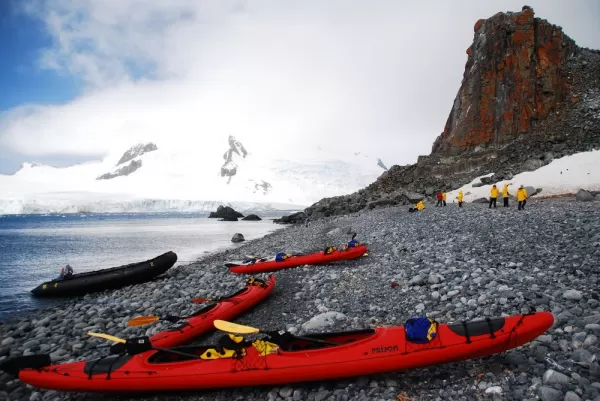 Half Moon Island 62º36' S 59º36' W
Livingston Island 62º37' S 59º55' W
Deception Island
Neptune's Bellows 62º59' S 60º34' W
Whaler's Bay 62º56' S 60º40' W
Half Moon Island lies in the entrance to Moon Bay, between Livingston and Greenwich Islands. The 2km (1.2 mi) long island is crescent-shaped and hope to approximately 3,300 breeding pairs of chinstrap penguins. Antarctic terns, skuas, kelp gulls, Wilson's storm-petrels and blue-eyed shags also breed at this site. Fur seals are often present on the beaches, along with the occasional Weddell or elephant seal. The Argentine Camara Station is located on the southwest side of the island.
Deception Island is the largest of three recently active volcanic centers in the South Shetlands. It is ring-shaped and 9 miles in diameter, enclosing the large harbor of Port Foster. Port Foster is also the caldera of the ancient volcano. To enter the caldera, our Captain will take the M/V Ocean Nova in the narrow entrance referred to as Neptune's Bellows. Inside is Whaler's Bay, which was named by the French explorer Charcot because of the heavy use by whalers at the turn of the 20th century. The rusting boilers and dilapidated buildings date from the shore-based whaling operations that began there in 1920. Deception's rim has an average height of 984 feet (300 m), with the highest point at Mt. Pond (1,798'). The most recent eruptions there were in 1970, 1969, 1967 and 1956.
*
After the breakfast landing at Half Moon Bay and first kayak around the bay. The wind was strong and there was a fear should we kayak or not? All of us thought that these are normal conditions! Later on, stronger wind, we had to return by zodiac to the ship. Spotted macaroni penguin. Early in the morning, skiers were on Livingston island.
Walk around the Deception Island; while most of the group went to climb I went to the other side around the rusting boilers and empty research station houses. Polar bear plunge in – freaking cold, but never felt better after blood rushed into my brain. No sign of any steam or warm spots!? Doubt that any exists except if one has to dig a hole on the ground. Sumpor smell (rotten eggs).