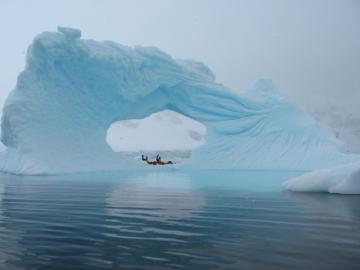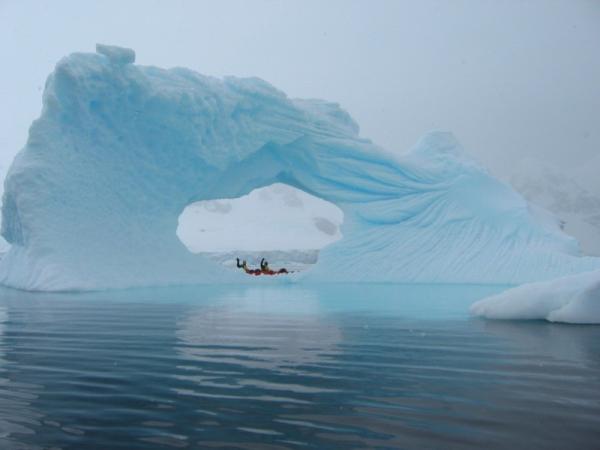 Penola Strait
Peterman Island 65º10' S 64º10' W
Vernadsky Station (most southerly point) 65º15' S 64º15' W
Argentine Island 65º15' S 64º16' W
Camping
Yalour Island and Vernadsky Station
The Yalour Islands are a 1.5 mile long group of low lying islands in the South part of the Wilhlem Archipelago. The islands were discovered and named by Charcot's French Antarctic expedition. Lt. Yalour was an officer on the Argentine ship Uruguay, which rescued member of the Swedish Antarctic expedition in November 1903. Nesting Adelie penguins and Skuas are known breeders here.
The Ukraine's Akademik Vernadsky Station is located on Galindez island within the Argentine Islands. It was purchased from the British for a nominal price of one pound in 1996, as it was cheaper for them to sell the station that remove the buildings. As a British hut, Faraday base or Station F, was occupied continuously for 49 years between 1947 and 1996. Research conducted from this site focused on geophysics, meteorology and ionospherics. This is also where scientists first observed depletion in the ozone layer, known as the ozone hole. The Ukrainian scientists at Vernadsky are continuing this ozone research in addition to studies focusing on geomagnetism, meteorology and glaciology.
*
Landing at Peterman island; saw adelie penguins, gentoo penguins, Weddell seals on the ice bergs, great formations of ice bergs.
After the lunch campers meetings, gear delivered.
Visit to Vernadsky Station and famous vodka bar; bought a drinks for the crew ($3 each, someone mentioned before like $1). Like in a real English pub, but no beer. Yulia, Boris and James had a blast with Ukraine's staff. Boris and Alexy stayed overnight at the base (sauna and plunge at the ocean).
After the dinner landing at the Argentine Island, making a tent; went for a walk; real and dense snowing all night; went to sleeping bag after 12:30AM; sounds of snow flakes dropping at the tent. Fantastic feeling. Had a hard time falling asleep, just wanted to enjoy the vastness, and solitudes, space and time!
Wake up call at 5:50AM, down with the camp and back to the ship. Zodiac ride at 5:30AM.