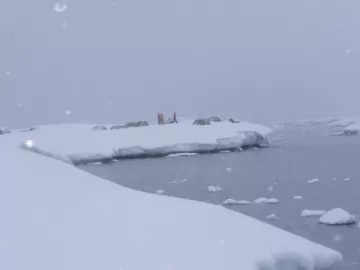 Portal Point and Hydrurga Rocks
Portl Point 64º30' S 61º46' W
Cierva Cove 64º09' S 61º07' W
A Falkland Island Dependency hut once stood at Portal Point; however it has recently been removed. Portal Point is of historical significance as it was the gateway for expeditions to the polar plateau. The surrounding topography is mountainous with many nunataks rising from the snow. On both sides of the landing site there are beautiful glacier tongues pouring out towards the ocean. We hope to offer a walk up the surrounding snow slope allowing time for individual contemplation conditions permitting.
These small islets making up Hydruga Rocks are named after the Leopard Seal, Hydrurga leptonyx. Hydruga Rocks lies to the east of Two Hummock Island in the Palmer Archipelago. The main island in the group rises to 25 meters above sea level with a barren and rocky summit. Chinstrap penguins, blue-eyed shags and kelp gulls are all confirmed breeders at this location.
*
Todays' kayaking was postponed due to bad weather conditions, too much wind and swelling sea. Instead zodiac cruising; last group to sail was the luckiest one since they saw whale at the close encounter. The rest of us, especially Jim, were so disappointed since no one call to tell us directions were to go; like a zombie we were cruising around looking for whales! Nothing happened.
Brunch from 9 - 11am. After that another zodiac cruises at Cierva Cove.
Shop was open again; instead went to room. Didn't wanna risk anything, called Dr Maureen for first half a dose of whatever injection she has. Slept for next 48 hours, without torturing myself through the Drake Passage.