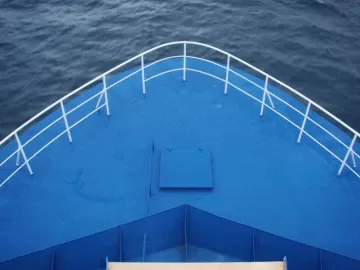 Ushuaia 54º48' S 68º17' W
After breakfast, packed and left baggage at the reception and headed to town with James and Frank. Coffee and long conversation with James. After the lunch at the Tante Nina restaurant, Godoy 15 across from the street the Port of Ushuaia; fantastic view of the Beagle Channel. Went to the port and wait for the bus transfer to the Ocean Nova ship. The most ridiculous and shortest trip by bus ever, 50 m here and 50m there through custom and baggage check, like at the airport, back to the bus and ride to the ship!?
Welcomed by the expedition staff at the entrance. Embarkation at 4PM. Left passport at the reception with Jill and to the room #320 with Allan and Steve. Around 5PM start a sail.
Welcome reception at the Promenade desk, captain's Alexy champagne toast. Lots of bubbly as Jan would say.
Very nice welcome dinner.
Still in the Beagle channel by 11PM when argentine pilot captain left the ship, and we slowly entering the Drake passage. Start moving in the bed, up and down, but tired not to pay attention.