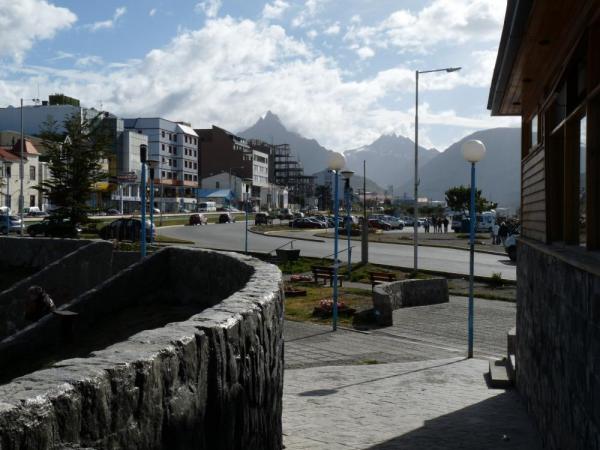 Having crossed the Arctic Circle, Cancer, Capricorn, the Equator and International dateline, I was determined to complete the list by crossing the Antarctic Circle.
I arrived in Ushuaia, Argentina December 30, 2011 to meet the Sea Spirit sailing for the Circle January 1. Having previously been on 6 small cruise ships, my expectations were high and I was not disappointed. Important are fellow travelers. Small ship cruises carry a pre-selected group. You will travel with people who are experienced having made dozens of trips to all corners of the world. Whiners and crybabies have been weeded out. Your companions will be predisposed to cheerfully making the best of whatever unexpected situations arrive.
Everything about the ship, especially the crew, was first rate. Two days of moderate (20') seas brought us across the Drake Channel and the Antarctica Convergence where the change is so dramatic and striking including weather and wildlife. Scenery, especially in ice and rock formations, defies description and even photographs simply cannot express the overwhelming sweep of the landscape.
Going ashore means covering up with layers of gear, so you just walk like the penguins waiting to greet you. The crew divides us up into groups to facilitate the transfer ashore. Strict hygiene of boots and gear is followed in order to not contaminate the continent. Coming back it is revised to eliminate the scent of penguins (think chicken farm) before coming aboard. Strict procedures for entering and leaving the Zodiac soon become an easy routine, insuring safety at all times. The seas change in a heartbeat and Zodiac rides can get rough and cold in a hurry, so all of the gear and preparation are soon proven not just appropriate but necessary. Carelessness will get you hurt or worse in a hurry. Your gear is heavy and the water numbingly cold. Thousands of penguins going about their business utterly disregarding of our presence.
And what of the highpoints? Hard to say, and each of us has our own answer. The wedding couple certainly had their day - yes, the wedding couple. Why they chose Antarctica I do not know. Marriage is crazy so why not go whole hog I guess. The bride was delivered to shore on a wedding barge consisting of a Zodiac decorated in white bunting, and dressed in a traditional white gown. She was further wrapped in a white cloak necessitated by the icy wind. She was met by the Captain who looked like he would have been happier on the bridge dodging icebergs, but was gamely dressed in his best uniform for the occasion. The groom stood with her looking like all of us grooms probably look no matter the venue. Fellow passengers gathered around in our gear but were put to shame by 1,000 penguins dressed in their tuxes and acting as if they did this every day.
For others it would be the fantastic Zodiac cruises along the glaciers and among the icebergs with their fantastic forms and colors, each offering a unique view and impossibly varied photo ops.
Some will put their vote to the moment whales broke water within 25 feet, yes feet, of our Zodiac. So close if anyone had been ready he could have tossed a nickel and bounced it off the whale's nose. The physical closeness is impressive but does not compare with making eye contact. I assure you whales look you straight in the eye at that range and are every bit as cognizant of you as you are of them.
Crossing the circle itself was to me the major moment. Having been north to the land of the midnight sun and paying due to King Poseidon for entering his realm, repeating the same at the opposite end of the Earth somehow brought a feeling of balance that has to be experienced and defies explanation. Apparently Poseidon had no agents on Sea Spirit so we paid no dues this time out. Being met by a wall of ice that strictly negated any thought of going ashore at that latitude reminded all of us how meaningless all our hopes and technology are when confronted by raw nature. Mother Nature wins every time.