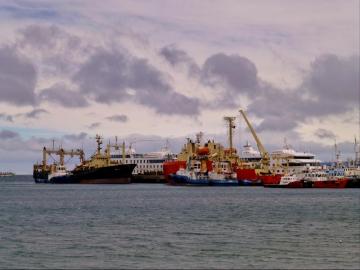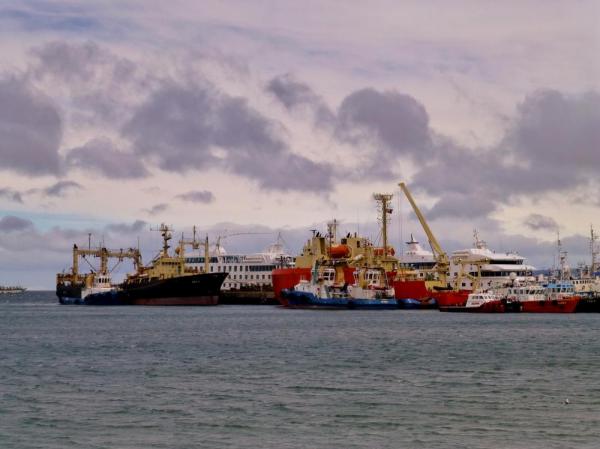 We did not go to Paradise Bay, but Neko Harbour was outstanding! It was our second Antarctic peninsula landing of the cruise.
Neko Harbour video http://www.youtube.com/watch?v=n0IN4vM2LHM
Today, we started the day with a 6:30 am wake up call and breakfast. Right after breakfast, Daniel gave us a presentation on Antarctic Glaciology in the Panorama Lounge. Just after that we landed at Neko Harbour (Coordinates: 64 deg 50'S 62 deg 33' W) at 9 am. It is an inlet on the Antarctic Peninsula on Andvord Bay. The weather could not be any better! With temperatures in the mid 40s, we dropped our jackets on the rock near the beach and hiked up to see the Gentoo penguin colony. We were within 100 feet from a large group of penguins. Some were still building their nests – stealing rocks from each other. Some had eggs they were protecting. We even got to see some mating activity! We saw so many reflections in the water and also a Crabeater seal on an ice flow. We had plenty of time during this landing and it was fun watching the Gentoo penguins going in and out of the water. We took a leisurely cruise on a zodiac to take a closer look at the floating icebergs on the way back to the ship. This was our most favorite landing site!
After lunch we landed at Danco Island(Coordinates: 64 deg 44'S 62 deg 37' W) and we had the option of going all the way to the top of the island to enjoy a magnificent view of the Errera Channel. We chose to walk along the beach and watch the penguins struggle in the snow as they made their way down to the sea. We went for another zodiac cruise to look at floating icebergs and found seals, penguins, and cormorants perched on the floating ice. We were thrilled to find a large piece of floating black ice that we picked up and took to the bar for our Scotch on the rocks! This ice does not melt in your glass for at least 2 hours! It was a nice surprise and unexpected as well to see a Twin Otter over flying the area.
Danco Island video at http://www.youtube.com/watch?v=hPTridoRvGk
Once back on board the Polar Plunge started! That was a lot of fun for the swimmers and the viewing public as well. Sanity prevailed and I refrained from taking the plunge, opting instead to take pictures from Deck 4.
Polar Plunge vieo at http://www.youtube.com/watch?v=5qtcrM9YGGA
The Hotel Team rewarded us with a truly Antarctic BBQ on the freezing cold outside deck. What a treat! But we had to make a quick retreat to the warmth of the aft lounge!