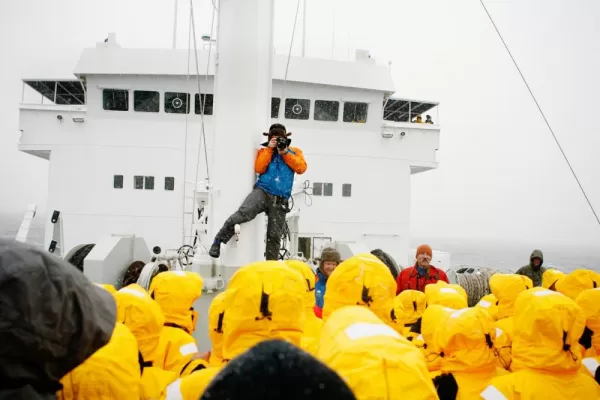 After breakfast we landed at Cuverville Island which is small & rocky and home to the largest Gentoo penguin colony in the region. Over 4800 breeding pairs of penguins! One thing you don't realize about penquins before you see them all in their natural habitat...they STINK! So, so stinky...you can smell the guano before the zodiac even pulls up to land if the wind is in your face!
For lunch we had an American style BBQ on the deck of the ship! So amazing to have a hamburger & corn on the cob while surrounded by glaciers. But you had to eat fast because the food got cold quickly!
Our afternoon landing was on Danco Island, which also has a large Gentoo penguin colony. There are spectacular views from the top of the island - cravassed glaciers all around the surrounding islands. We also saw humpback whales as we sailed the Errera Channel.
That night we finally got to go camping! I was under the impression that we would be in tents, but um...not so much. We slept in sleeping bags, inside bivvy bags right on the ice. Because you aren't allowed to leave anything behind on the protected land, we ate dinner on board the ship and got ready for bed (teeth brushing, etc.) before we left the ship for the night. Basically we were just allowed to sleep on land & we were back on board before breakfast. At our campsite we were each given a bottle of water and there was a bucket for...taking care of business. Now I am notorious for getting up in the middle of the night & try as I did to ignore the urge...but it ended up being one of my favorite memories from the trip. Hosea had promised to go with me, but was twisted up & stuck in his sleeping bag. So I ventured off into the dark of the Antarctic night all by myself, just me & my headlamp, the sound of ice & ocean all around. Made me feel both small & invincible at the same time. I know I keep saying this but it was...AMAZING!