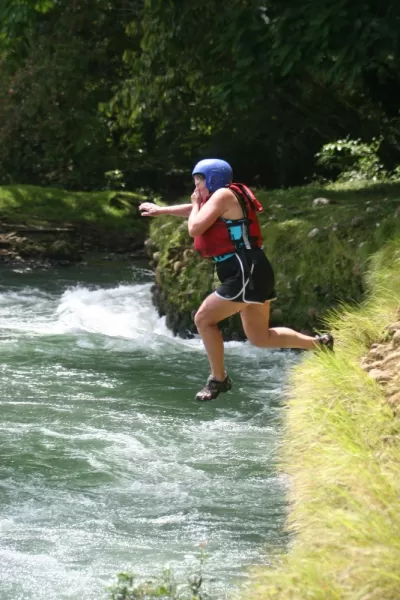 Although you didn't know what you were missing with air-conditioning until you had it again. Wow, dry clothing and no sweat! Lomas Del Volcan is very nice! Sitting out on our porch, overlooking the volcano and having in-room coffee is like being in heaven. BEAUTIFUL!
90 MINUTE GUIDED WALK: Start this day off with a good breakfast and a 90 minute walk along the volacano with a guide. Again, very educational and were able to witness cool things like a CORAL SNAKE, a rubber tree, vines, turkeys, and many, many toucans! Unfortuneatly, because of the rainy season, we were unable to see the top of the volcano, but still neat all the same.
NEXT: HORSEBACK RIDING TO LA FORTUNA WATERFALL: We booked this excursion on our own through the hotel. They recommended them and it was a good one. This was a surprise for my daughter. My horse was named, Maripazona, my husband had Homer, my son had Pa Snow Snow, my daughter had Tequila and Grandma had a spanish name we could not pronounce, but she said it was "slow and steady". We spent an hour horseback riding to the waterfall. Walked down 482 steps, swam in the cool, clear water and took many pictures of the aweness of the waterfall, then walked back up 482 steps (yes, grandma beat half of the men back up to the top, she is Superwoman!) and rode another hour back. Great Excursion! Many memories and I think my son loved the horses more then he ever would admit to!