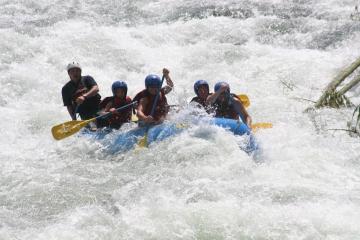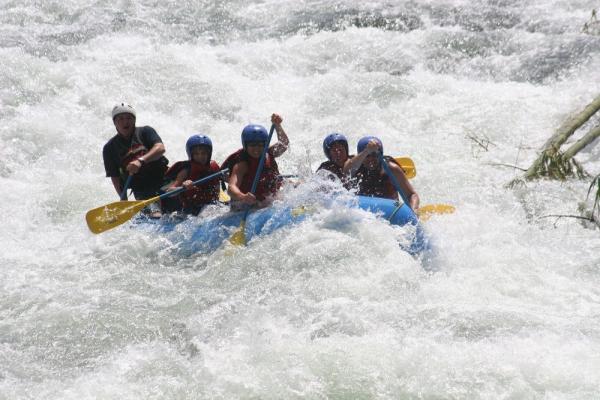 6:15 - A very nice, large, air conditioned van comes to transport us to Tortuguero, right on time. There is a very nice driver and our guide. The guide spoke great english and informed us greatly about things we would see. The guide also educated us about the past and present condition of the rainforests of Costa Rica and its history. Very educational for our children and us.
7:30 - Stopped for breakfast at Selva Tropical Restaurant (Excellent food, great service. Children ate great and really enjoyed the butterfly garden).
BANANA PLANTATION TOUR: Stopped at a real banana plantation where we got to get out of the bus and walk around to see the entire process of harvesting and packaging bananas. Outside the plant some men were selling coconuts. Our son enjoyed that. That was one thing he was extremely excited to try.
BEAUTIFUL BOAT RIDE/TOUR: Next we hopped on board our boat that would take us to our hotel in Tortuguero. It was very fast paced and we were able to see a Crododile basking in the sun on the banks of the shore. Amazing tour in itself, with spotting of other wildlife along the canals of Torteguero.
TOUR OF VILLAGE: Stopped at a Tortuguero village along the canals where we were guided and educated about the people of Tortuguero and witnessed their education, living conditions and their ways of living, both past and present.
ARRIVE AT TURTLE BEACH LODGE: Special Drinks awaiting us. Kids loved the fruit and umbrellas. Found our spacious/clean rooms. No air, but it was extremely cool sleeping in an entirely screened room. Amazingly, there were no bugs in the room at all! Enjoyed lunch and all the chef had prepared. The food here is extremely good. Again, kids loved everything which I was concerned about prior to leaving for this vacation, but pleasantly surprised how much they are eating the food.
TOUR TURTLE BEACH: Get a chance to relax so we hit the turtle shaped pool for a while and then head to the beach where we had fun finding many, many sand dollars.
7:00 p.m. Went to another fabulous open air dinner. My daughter asked "Mom, how many days have we been here?" and I said, "This is only day two of eight". She said, "No Way! It seems like we have done so many things in just one day".