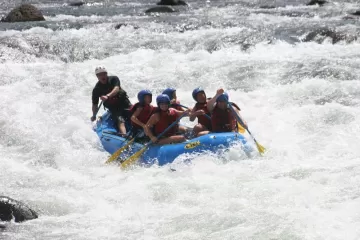 8:30 a.m. - Shhhhh!!! The Limo surprises the kids and arrives to pick us up at the House to take us to O'Hare. The kids were so surprised and could hardly believe it.
2-8:45-pm Airplane Ride. Smooth Flying!
9:00 pm - Walk out San Jose Airport and see our Driver from Adventure Life waiting for us with a "Maki" sign.
9:30 pm - Arrive at Hotel LeBergerac (beautiful and clean). We are pleasantly surprised we get two rooms (one for my family of 4 and one for my mother-in-law). Hotel Staff delivers our drinks to our rooms and we hit the sack for the early departure to begin our adventure into Costa Rica.