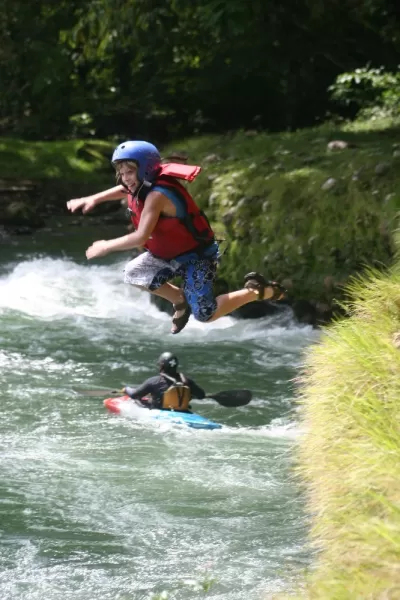 Start off with great breakfast and hummingbird watching off our bedroom porch. Get packed up to leave for our next adventure: White Water Rafting with Aguas Bravas.
Again, get picked up right on time by Aguas Bravas and head to river. We were met by our rafting guide and carefully instructed of safety measures. I was a little concerned about my nine year old, however, our guide was the best and made sure I knew he would protect her "as if she was my own", he said. My daughter was not real sure about going on this adventure, however she now says it was by far her most favorite part of the trip. These guys at Aguas Bravas are first class and know exactly what they are doing and enjoy every minute of it. I have to say this was the most memorable thing ever! My 65 year old mother-in-law was amazing and even fell out. But was completely fine and everyone (especially the kids) will never forget how "grandma fell out of the raft". What an amazingly fun, fun, time! The Best! After rafting they served us probably the best food we had! And that says alot since everything we ate on this trip was great!
Next we meet our driver (right on time) to take us the rest of the way to La Fortuna to Arenal. What a blessing this gentleman was. He was such a special driver to us. He asked what we "haven't seen on our vacation yet?" We said, "sloths and toucans". Guess what, he made sure he found a sloth sleeping in a tree along the side of the road. He pulled over, stopped the car, got out and we all got to see one and take its picture. Very Cool. Then he took us to a restaurant where there are a million iguanas and my kids fed one an ice cream cone by hand. It was beautiful. Our driver was especially kind and took us even to the grocery store before we got to our next hotel, Lomas Del Volcan.