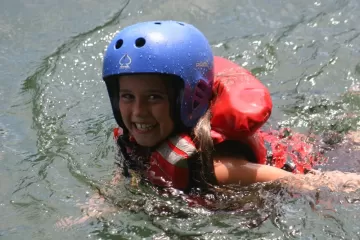 We start the day off with our last adventure before transfer back to San Jose to catch our flight back to the States: Its Zip Linning!
ZIP LINNING: Again we set this excursion up through the hotel and it was great. The place is called Ecoglide and they are fabulous! My son thought this was the best adventure yet! The team of guides were very thorough and made us very comfortable with what to do! Because of the wet lines and rain it was hard to stop and so they were awesome with my mother-in-law and always helped her out with stopping! Bronco was very kind and helpful to her! After zipping through the trees and seeing the beauty we were offered a Tarzan Swing. Which is a 50 ft free fall drop until the swing kicks in and you are swinging over the canapy back and forth. Stomach dropping fun! Everyone did it, yes even grandma! In fact, she was the only one who did not scream like a baby! What wonderful memories! At the end of the tour, we were offered a drink and reviewed all the great photos the photographer took! Thanks Ecoglide!
11:30 Transportation arrived to take us back to San Jose. Again we were blessed with another great driver who stopped to show us parts of this beautiful country and even bought us some local fruit from the side of the road which was crazy looking, but wonderful tasting! Our driver took us to lunch at a little, little, place along the side of the road (not a part of the trip plan) and even took us to a souvenir shop before finally arriving in rush hour traffic in downtown San Jose. I never have seen rush hour like theirs! Back at Hotel LeBergerac!
Dinner at Hotel Restaurant: This dinner was very memorable. Not part of the package, but a must do! The restaurant is located right in the hotel and very fancy. French! Men have to wear long pants and no open toed shoes! We ordered a bottle of wine, had the kids get all dressed up and enjoyed a very delicious meal to cap off the worlds greatest vacation! Thanks Adventure-Life! For complete perfection!!!