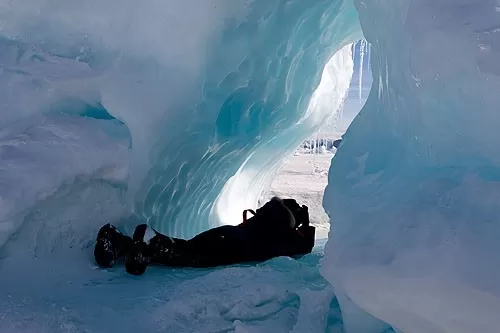 Realizing that I am really here at Snow Hill and about to take off in Russian helicopters over Antartica, is just too surreal... I couldn't sleep last night.
The ride was exhilerating. Everyone ( the eight of us) in the helicopter were speechless. We were all so happy and in awe, that we just couldn't speak. We just looked out the windows in amazement at that the wide vast whiteness and the tabular icebergs beneath us.
The ride was about 10 minutes and then we landed at base camp. The Quark leaders set up two tents, provided food and emergency equipment for two days in the event a storm arised preventing us from returning to the ship. They even set up a temporary bathroom at the camp. They did this everyday for us before our arrival to base camp. The Quark leaders made us feel assured that they were prepared for anything. There was no need to worry about our safety as they did that everyday for us.
The walk to the rookery was about 1.2 mile. The sun was shining on the icebergs around us. The blue icebergs frozen in the sea ice were incredible.
Then, the first emperor penguin appeared, then another and another. They appeared in their tuxedos and acted like a welcoming commitee.
We walked among penguins and icebergs all the way to the rookery. Once at the rookery, we watched and photographed the majestic birds and their chicks for the next five hours. The Emperors were everywhere. Some of the birds were curious and approached us while others just continued on doing their penguin business.