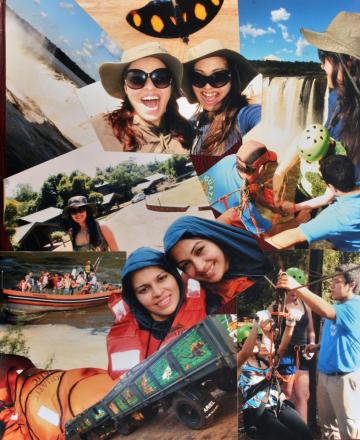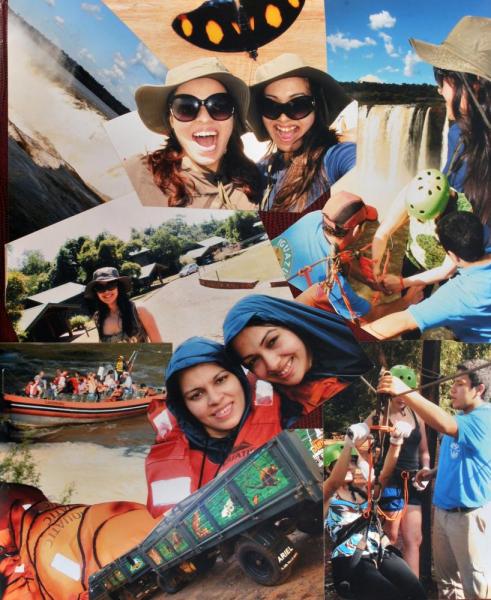 Illusion or Reality?
We rose early getting a picture perfect view of grazing horses and sheep outside our bedroom window, a rare sight for a city girl who is not so fortunate. If one is to truly enjoy El Calafate, I highly recommend El Galpon snuggled in the lap of nature.
A close ride away from El Galpon, we were on our way to the Los Glaciares National Park. We were taken to the shore of a waterway where we embarked on a catamaran which took us to the glacier. The water was a perfect reflection of the sky, and chunks of ice floated on its surface.
As we were approached the glacier this colossal masterpiece stood before us in all its grandeur, flaunting its iridescent shades of blue. We were finally able to comprehend the majesty of the very "talked about" Argentinean Jewel 'The Perito Merino Glacier'. It's overpowering height of 200 meters - the size of a 15-story building was almost surpassed by the equally impressive length which stretched back three miles.
Music on Ice
Unexpectedly, we heard a loud thud. All heads turned in amazement as we witnessed the fracture of the glacier – a sight that was visually spectacular. As we got off the jetty, we hiked along a pathway leading to the tents where the crampons were provided to us. Our trekking boots all strapped into them, we were ready to go. The metal contraptions provided a sturdy grip on the glacial surface, which did get quite slippery at times. We opted for the 'mini- trek' experience while the more enthusiastic ones had dared to venture the five hour trek on 'Big Ice.'
We started our trek making giant like steps, each making a thud. Nanita started her trek crawling on all fours. The guide thoroughly amused, tongue in check, explained the desired technique. I, on the other hand felt quite confident and for once in my life being overweight had an added advantage. My steps were weighty and strong giving the crampons a sturdy grip on the ice.
Our 1 ½ hour trek passed through various crevices in the ice, beautiful blue lagoons and some tunnel like formations which we tried very hard to walk through, however unsuccessfully. I couldn't pass up the opportunity to fill my Nalgene with some fresh, icy water from this pristine bounty of Nature.
Scotch on the rocks
It was an exceptionally windy day - definitely not the ideal weather condition to be standing on a steep precipice. Nanita was encompassed by fear and her sluggish turtle like steps held up the line. I found the downhill slopes particularly scary. A few halts along the way and after a couple of snap shots, we were off again. I must confess, the pictures we captured cannot even remotely do justice to the true magnificence of this glacier. Before long, we could see two wooden tables with glasses all laid out. Was this my imagination or had the Argentineans managed to optimize their creative talents and round off the adventure with a bang?
Our guide chiseled the ice and filled our glasses with some fine Argentinean Scotch. The non Scotch lovers relished some authentic glacial ice with a purity and freshness you can't compare to your most expensive bottle of 'still water.' We were soon at a log cabin where we enjoyed our packed lunch prepared by our generous hotel staff.
Our Inner Gaucho runs Wild
Our next destination was uphill to a point where we could walk along several balconies, giving us varied views of the glacier. We were on our third memory chip and were reaching a record mark of 2000 pictures in one trip, evidence of a trip like none other before.
The Perito Merino Glacier had perfection, almost as if the wind had chiseled its beautifully sculptured formations. Our experience of this Patagonian beauty was once in a lifetime! Once you witness its opulence, you will be transformed.
After our tiresome days adventure, we grabbed a quick nap at the hotel. We spent the rest of our day letting our inner gaucho ride wild as we enjoyed the horse-back ride arranged for us. All saddled up, Nanita and I were trotting along some farmlands with grazing sheep and horses. Joined by an American chica who was more than glad to have found English speaking company, we enjoyed our ride along the graveled shores of Lake Argentino, relishing the sunny and tranquil evening.
This is definitely the perfect way to fully appreciate the idyllic location of the Estancia. We had the two Kelpie dogs of the Estancia follow us the whole way. The horses had a persona of their own. While my horse was rather competitive in nature, Nanita's horse took every opportunity to feed his tummy and graze on the lush vegetation. We galloped our way back along the breathtaking shore of the Lake. It was a thrilling ride unlike anything I've experienced.