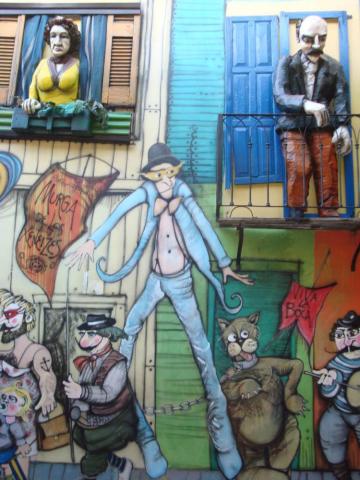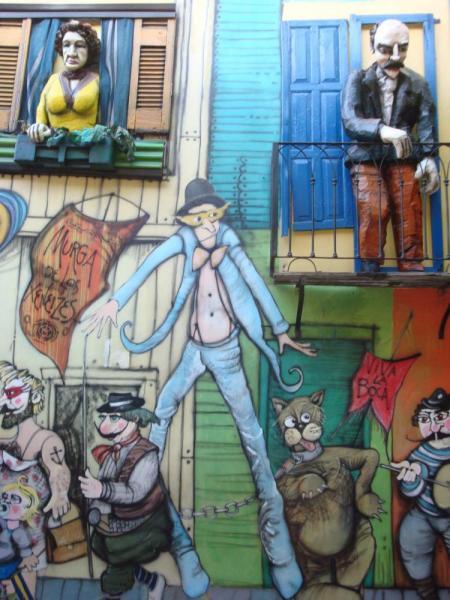 How did two 'vegetarianos' land up in a beef-eaters paradise?
Today we booked ourselves for a day excursion to the Pampas. A "must do" on our list, we visited the San Antonio De Areco Estancia, a Gaucho Sanctuary and a working ranch. Our drive to the Ranch was through the panoramic grasslands with fenced farms, fields of maize, wheat and soy. We passed several Platanos, Sycamores and Jacaranda, the guide throughout explaining how several of these species had been imported world wide by the Spaniards for the city's beautification. This explained our initial fascination with the trees of this city. We were briefed on the indigenous tribes and how they developed into skilled horsemen, hence the Gauchos. Approaching the Pampas, the 360° view of the horizon was most breathtaking.
The Gauchos dressed in their 'Bombachas de campo'- (baggy cotton trousers) and berets, eagerly welcomed us. Their hospitality was experienced with some fresh home cooked Empanadas and some chilled white wine. Before long, some of us were saddled on the horses while others toured the ranch. We got various views of the ranch, from grazing cattle to rodeo-style shooing by the Gauchos. I wasn't sure if my horse had a bit of a heavy lunch , or it was me making excuses for being over weight but I tried everything form the thump of my feet to mimicking the gauchos with some mouth sounds, but to no effect – I still could not keep pace with them.
The feast began when luncheon was served on long trestle tables. Hot steaks and other prime beef cuts, prepared in the traditional Asado style (barbequed) were served by the Gauchos themselves. From Chorizos, blood sausages and tenderloin- it was a true meat lovers dream! That obvious look on every ones face as if saying aloud "How did 2 vegetarianos land up in the largest meat eating country? What a waste!"
It did come as a surprise to me that the population of Argentina eats more meat per capita than the inhabitants of any other country. Or 50kgs of beef were actually consumed on an average per person annually in this country. However, the gauchos were nice enough to make a quick preparation of some veggie Omelet's and a delicious spread of fresh salads.
Lunch was a good opportunity to mingle with several travelers. The most common discussion being, 'our itinerary'. Each of us was inquisitive to know what we had missed out on. Nanita and I had extended conversations with an elderly Indian man, who turned out to be a famous geologist from Canada and being a globe- trotter, he gave us several recommendation for future travel.
Cow boy hats and Gaucho style Entertainment
We enjoyed some time honored traditions of Gaucho Folklore over some Vino. It was Baby Oliver, a Cuban baby's drools and smiles that made my day.
We were shortly invited to the neighborhood field to witness the display of the Gauchos fabled Equestrian skills. We experienced short racing, games like horse back musical chairs and several other stunts. Some of the women in the audience were given a kiss from the Gaucho along with a souvenir 'silver ring' that he plucked from a suspended string as he galloped past it. The sight of a horse and Gaucho, spooning each other made us feel like we were on the sets of Clint Eastwood's "Horse Whisperer." The years of bonding between the two and the innate trust in the Gaucho was so refreshing to witness and so contrary to the general distrust and suspicion one typically associated with urban life.
We left the Estancia with at least 500 pictures and almost in a trance. Feeling beat after a long eventful day, Nanita and I retired at a café by our hotel. The two Mumbaiites in their cowboy hats had truly witnessed an authentic Gaucho experience.