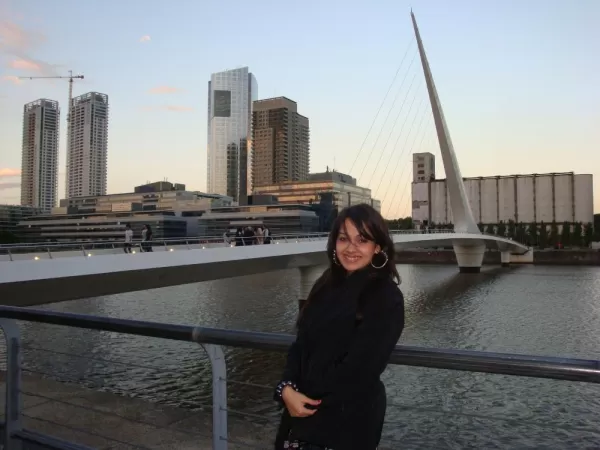 Our End to the 'End of the World' Experience
With a half day of leisure available for ourselves, we visited the Museu De Presidio, once a top security prison which housed the most dangerous sort of criminals who had extended sentences. Here we found substantiation on the lifestyle of Yamanas and the numerous unsuccessful attempts made to explore this land.
We grabbed a quick meal at La Estancia, a restaurant you must visit if you missed out on the Pampas adventure. This restaurant provides a feel of an Estancia with an open pit fire with the 'Asado' - barbequed lamb on skewers, a specialty of the area..
I'm sure Ushuaia offers a fragment of what one can witness in the Antarctic, especially after the several stories we heard from avid travelers we met along the way. Each of them are so mesmerized that they fall short of words. However we spent a few blissful days in the middle of nothingness and there's nothing more that we could ask for.
Whispering Acres
We soon arrived at El Calafate. Our drive from the airport to our hotel traversed diverse terrain-from desert like mountains, beautiful serene lakes with floating flamingos to green pastures with picket fences. We drove past snow capped mountains and witnessed the sky break into myriad hues. Our Bolivian driver Quan Cardos, tried very hard to converse with us. Our pouquito Spanish was not of much use except for the few words which we were able to translate from our Spanish-English dictionary, which finally served a purpose.
Cardos excitedly pointed out a woodpecker that greeted us as we entered our Hotel Estancia El Galpon Del Glacier, which to our surprise was a working sheep ranch. We checked into our warm and cozy room with dark-wooded flooring and were more than excited that our hotel was not in the main town area. This Adventure Life pick was an oasis of tranquility huddled in the lap of Lake Argentino.
We were just in time for hi-tea and delicioso pastries, brownies, hot chocolate and an assortment of sweets. Tourists who had come for the folklore and dance show joined us and we were all escorted to the farm. The vegetation was replete with several sand hills, shrubs and the famous Calafate plant.
Catch me if you can…
We then witnessed our first activity of the day We all stood waiting with keenness as the beret clad Spaniard escorted his herd of a few dozen sheep. We were spectators to the Gaucho orchestrating the dog-sheep chase, almost like a master conducting a grand symphony. The docile, playful sheep trotted along playfully, as the Kelpie dogs chased them. The scene was dramatic of dedicated dogs playing Guard almost like Policemen chasing the outlaws. The hounded sheep with their voluminous bottoms fell into puddles while some slammed right into the fence. All bunched together, they ran with their heads nudging the back-side of the ones in front. Quite a hilarious, yet adorable sight!!
Soon we were all taken to an old clipping shed where we watched the actual sheering of the sheep. It was the years of trust in the Gauchos that ensured the sheep remained calm and composed while having their fleece sheared away, knowing fully well that this was an annual ritual.
One entire piece lay stretched out weighing 7 kilos. (The wool is sold at $2.50 per kg and its oil is used by cosmetic companies). This experience was so fascinating and remains to be the highlight of my entire trip. Completely mesmerized by their innocence and naivety, I gazed at them for minutes at length.
Soon we saw a bunch of ravenous sheep speedily charge as their grains were poured out. It was feeding time and one Ram amongst them had a voracious appetite and definitely stood out. While the rest were sent back with a pat on their buttocks, the Ram sneaked past the gaucho to get his last mouthful leaving us thoroughly amused. What an adorable sight!
Some Argentinean folklore awaited us with a three course meal and mouth watering caramel flan. A truly delectable end to a perfect day!