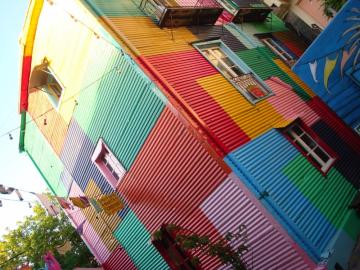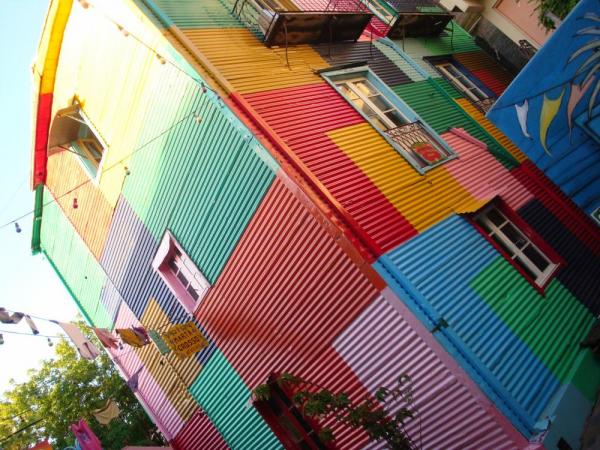 Football, Demonstrations and NIKE!!
Today marked the first day of the "Awesome Argentina" tour and resulted in a host of pleasant surprises.
Our city tour of the charming Buenos Aires started in the historic district of the city. We soon stood before the famous balcony (of the Government House) where Evita Perón would address the public. Before us, were hundreds of people sporting jerseys and jumping like a swarm of grasshoppers out on a morning excursion. To our pleasant surprise we were witnesses to the live making of a Nike commercial. It was unquestionably ironic that we were spectators to a demonstration, in a city where congregations like these were almost like a national sport. We concluded that the fervor of this game could bring the city to a halt, quite similar to my country where only a cricket game could have the same impact. Astounded, we watched a couple of re-takes until we were fully able to fathom what we had been witness to.
Time traveling into the 19th Century
We were soon walking the streets of the renowned barrio of San Telmo, which to me was a trip back in time. It was its quaint streets and cobbled pathways, the 19th and 20th century architecture and cafes alongside which seemed to exist from the beginning of time: but most of all the 'hand-me-down' book fair at the famous Plaza Dorrego which was as illusory as it could get for being in the 20th century.
The locals displayed a library of preserved books and calendars. We stumbled upon Coke advertisements preserved from its conception and its improvisation through time. People sat reading books and novels, relishing the quiet morning as they patiently awaited the visit of some foreign tourists.
We then meandered along the streets with Andreas, our Irish guide who briefed us on the neighborhoods history. Nanita and I sipped some hot coffee while we passed several stylish antique stores. Before long we stood before what appeared to me as a secret passage into Argentina's past. From "fashion gone bad" with hideous goggles, to pocket watches and money machines. From Polaroid cameras to records of the legendary Elvis and the Bee Gees, there were a plethora of goods to bring amusement to our faces.
An Artist's Hospitality
Nanita and me requested a small detour to 'Pasaje Lanín' (in the barrio of Barracas), a mosaic lined street we had read about on the in-flight magazine. Andreas and the driver Carlos were gracious enough to accommodate this fancy of ours by making inquiries of its location. This was our last stop for the day and was nothing short of magic! What stood before us were four blocks of houses with facades of colorful tiles and mosaics by the famous artist Marino Santa Maria.
A barrio that once housed the wealthy was today an industrial area, home to various immigrants and the working-class. The façades were each a piece of art. Was it sheer luck or destiny that the artist himself was looking out of his work studio? Captivated by the two Indian girls who couldn't stop appreciating his work, he amiably invited us to tour his studio and personally displayed all of his artworks. From paintings of the Legendary Carlos Gardel, to hand paintings on jigsaw and ceramic tea sets.
It was when he brought out some postcards which exhibited his artworks around the city and autographed them, Nanita and I fell short of words. Such generosity and humbleness can only be witnessed in a city like Buenos Aires! Andres, most astounded by our experience with artist Marino, kept exclaiming "This is magic! This is destiny!"
I must say that any and every interaction we had with the people of this city, we were left with warmth in our hearts.
Chimichurri Cravings!!
It was late noon and we were famished. Andreas bid farewell as she dropped us off at our hotel. Nanita and I then took a cab to a local hideaway – El Sanjuanino. (On Callao and Posadas in the Recoleta district)
If you're missing your hole in the wall hideaway joint, I have to say this restaurant wins hands down when it comes to serving the best Empanadas in town.
As cravings overpowered us and with only Chimichurri sauce on our minds, six plates of an assortment of vegetarian Empanadas were brought to our table. From corn and spinach to loads of queso (cheese), we had it all! The ambience was traditional with beer barrels, wooden window panes, hanging lanterns and a wine cellar- everything to trigger the idea that Argentina is everywhere you look around. Once our taste buds were completely satisfied, we indulged in some local desert - the exotic 'Isla Flotante' – floating island: a delightful combination of Spanish cream custard, caramel meringue and candied almonds. The contentment that you get after a generous meal in this city is topped only by the joy of the modest check.
We then strolled along the streets, trying to work off all the carbs we consumed, till we approached the Recoleta Fair. This was the place to look for crafts, souvenirs, hand-made jewelry and gift items. There was an eclectic variety of every imaginable artifact. The most popularly sold item seemed to be the hollowed out gourd for the traditional tea, Yerba Mate.
From the romantic sounds of the tango, to the sounds of haggling, the atmosphere was bustling with excitement. Local artists had displayed their works of art in fascinating colors. There were live bands playing and tarot readers engrossed in their readings. There was something for everyone. We didn't have time for the Recoleta Cemetery and had to head back shortly in order to recharge our batteries before the night's extravaganza began.
A Mystical end to a Magical day
This evening we were to visit a tango show- 'The Esquina Carlos Gardel.' For a city that resonated the voice of the legendary Carlos Gardel, this was a fabulous opportunity to really soak in the culture of this place. At a cul-de-sac on Corrientes Avenue, this Art Nouveau styled room recreated the refinement of the most lavish old time dining rooms.
From meeting an artist, renowned for his paintings of the legend himself, to actually visiting the Carlos Gardel show on the very same day, something about today was definitely mystical. The evening started with a sumptuous three course meal and we sipped over some vino. The dancers performed the complex moves of the Tango so effortlessly. The costumes were flamboyant yet had a touch of elegance. The artistic ambience and the fabulous singing and dancing combined to make the evening an unforgettable cultural experience! We were home by midnight eagerly awaiting our early morning flight to Ushuaia.