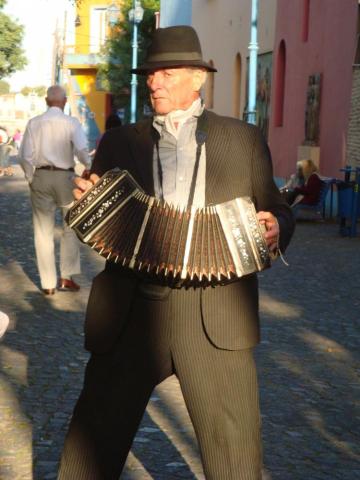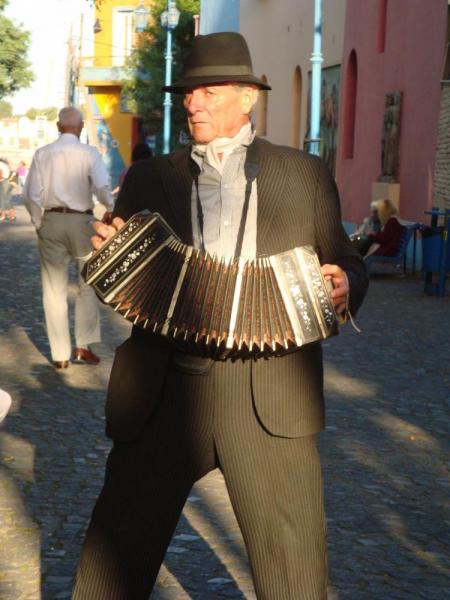 "Shopping, more Tango and Carlos Gardel"
Celia, bid us farewell with a warm hug as she dropped us off to the airport for our flight back to Buenos Aires. Yet another example of the personalized hospitality and warm care we'd now come to associate with the Adventure Life team.
At the Arrivals section, we were greeted by a portly Santa Claus of a transfer guide, adorned with a flowing white beard, who at once had us in high spirits with his jolly disposition and repertoire of anecdotes. After much banter, we were dropped off at the Reino Del Plata hotel, an Adventure Life Pick. The hotel staff was very efficient and provided us one of the quickest check-ins we had ever experienced.
The room was nice, not as spacious as our Iguazu Hotel but none the less, very neat and comfortable. Subsequent to a quick unpack we decided to stroll along the most talked about pedestrian street in the area.
As luck would have it, our hotel was joined at the hip to Calle Florida, which made its location ideal. Be it the money changer, pharmacy or snack shop, they were all a short walk away. As we started to stroll along the street, my first impression was "Wow!" This was a mile long pedestrian mall, giving a whole different meaning to high street. There was a sea of people strolling back and forth through one Narrow Street. It was almost unreal the way live bands, street artists and moving statues kept you amused throughout. I was particularly fascinated by the sight of a man actually working out on a treadmill, in the window display of a store. Hats-off to the Argentineans for their creative advertising.
The streets were lined with early 20th century buildings, boutique stores, souvenir shops, restaurants and cafes. All the locals had displayed their handicrafts and some were particularly engrossed in creating their wares while others laid out their stalls. Nanita and I made the most of our bargaining skills, something that we inherited naturally through our Indian genes. We got ourselves leather Gaucho hats, in preparation for our trip to the Pampas that we had booked for the next day.
The atmosphere resonated to the beats of the Tango as the dancers performed on every occasional block. Tourists stood there with pasted smiles almost as if saying aloud, "Buenos Aires, my heart shall always belong to you..." If there is any street in the world that could possibly keep anyone entertained for every second along the way, Calle Florida has to be it. As we walked by, we were amused by the sight of a young school girl who sat at the corner selling little hand made trinkets while simultaneously doing her home work. Almost as if the draw of the street was so intoxicating, that she wanted to be a part of it all, without leaving her daily responsibility.
We eventually reached Galleria Pacifico, an upscale shopping mall. It felt rather odd and was definitely a first, that two 'shopaholics' like us did not have shopping on their minds. There was just too much to explore and there was never 'too much time' to spend in this bustling city! We walked around the galleria, mostly appreciating the exquisite dome ceiling with its beautiful fresco paintings. We then reached the Plaza San Martin, where we rested on a bench and enjoyed the serenity of the park.
By late evening, we took a cab to Suipacha and Avenida Corrientes, which looked just like Broadway in Manhattan. A stream of tango bars, restaurants, tango shows and musicals lined the streets with the brilliance of the Las Vegas strip. We dined at La Bolsa, an Italian bistro where Tango dancers performed live, providing the "perfecto" ambience while relishing mouth- watering 'Gnocchi.' An elderly man sang to the tunes of legendary Carlos Gardel while we sipped on a large glass of red.