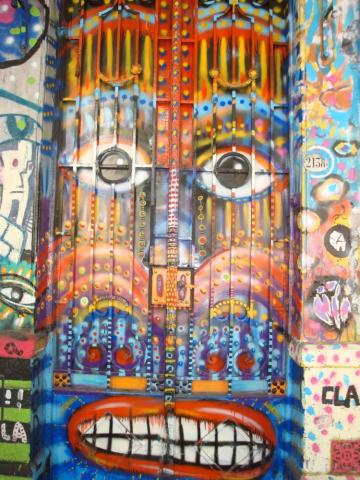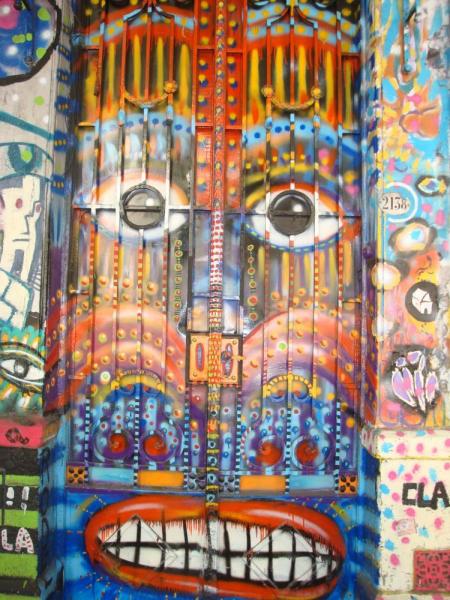 Prancing through the Plush Palermo
After a nice hot breakfast at the hotel, we made a pit stop at a nearby bank to get some Pesos. We had to make a brief mental calculation to comprehend its value in our local currency (Indian Rupees). All stocked-up, we ventured onward to roam the streets of Buenos Aires. The neighborhood of Palermo Woods was a short walk away. Armed with a map in hand with 'hot spots' marked out helpfully by our hotel staff, we began to stroll along the tree-lined streets of the barrio (neighborhood). We were most intrigued by the exotic species of Palms that adorned the streets.
We visited the Japones Jardin which had immaculate landscaping, Japanese plants and delicate Azaleas. This was a place where we could experience nothing but serenity and inner peace. What a delightful start to a sunny morning! As we walked toward the Malba Museum, we watched the chic passer-bys with their equally chic dogs. We walked through some doggy parks and saw several dog walkers who seemed to be part of a trend prevalent in this barrio. We spent a good hour admiring the fascinating displays of some famous Argentinean artists and photographers in this modern art museum.
A short taxi ride away we walked along the cobbled pathways of the Palermo Viejo area. This residential barrio exuded a very bohemian vibe. The funky and colorful facades of the small boutique stores and restaurants intrigued our fascination. We then "caffeinated" at Marks Deli (they do a delectable 'caramel latte' which is a "can't miss!). A place very popular with the locals and the ex-pats, and with a 'hip' clientele, the area reminded us of our local Mumbai suburb, Bandra, which tends to attract youngsters and is now home to a large ex-pat community.
It was a nice, lazy morning and we stumbled upon Plaza Serrano, a circle where locals exhibited their handicrafts and creations in tiny make-shift booths. There were innumerable bars and resto-bars around the plazas perimeter. With a smirk on both our faces, we gave each other a nod as we thought to ourselves, "that's where we're heading tonight!"
"Post-card" Perfect
We hailed a taxi and visited the much anticipated Caminito Street in the La Boca district – a historical area now conserved as a tourist attraction and also where the Tango originated. With a camera in hand I was "on a roll" - trying very hard to capture both the multi- color graffiti laden façades, boldly painted on lines of corrugated tin houses. The colorful 'doorways' particularly caught my attention, each of them being distinctively diverse and way more striking than any post card image. We felt as though we were walking on the sets of a vintage romantic Latin Classic. This was a city bursting with passion and a pulse. You could feel your feet tapping to the tunes of the Tango in the back drop, no matter where you were. We sauntered along the cafes where locals performed this dance with poise and grace. The traditional bevy of street artists kept us entertained throughout. From human statues painted in bronze, to the popular Maradona look alike. Women were dressed like prostitutes waiting to be photographed for a couple of pesos. And finally, Tango dancers who actually lift you off your feet and 'dip you' for a quick photograph. Such exhilaration could only be experienced in Buenos Aires! Not to mention the sight of an old Brazilian Lady dying to get her lips on a handsome lad which was hysterical!
Mistaken to be of Brazilian descent, we felt charmed by the flirtatious calls of the 'porteno'. You could feel the joie de vivre in the air as a live Brazilian band in colorful attire walked the streets. What were once the homes of immigrants has today been refurbished into art galleries. The day's flea market was wrapping up and we just about managed to get a glimpse of some of the artistic displays of the locals. This was a city that provided a platform to nurture the creative talents of its people. It was truly an afternoon that had left us enchanted by the city.
It was the taxi driver who drove us to Puerto Madero, whose consideration and niceness, left a mark on us. We were charmed by the people of this city - their amiability and warmth. On hearing my incessant coughs due to a lingering allergic congestion, the porteno handed me a brochure to a medicine that would make my cough go away 'mañana', (tomorrow). He pointed to a near by pharmacy and continued to converse in Spanish. With my 'poquito' (tiny) comprehension of the language, I tried to make sense of the conversation. All along, my heart was touched by the porteno's thoughtful gesture.
Puerto Madero, comprising revamped docks on the river, was an upcoming barrio. We admired the modernistic structure of the "Women's Bridge" as we strolled and enjoyed our evening. My sister Nanita felt this reminiscent of the Canary Wharf neighborhood in London, where she had lived for a couple of years. This city had a very European charm to it but unlike most European cities, it was much easier on the wallet. We sauntered along the waterfront where there were the famous grill houses also called 'parrillas' known for their Argentinean beef. This upscale barrio housed two 19th century ships which are today floating museums. As fatigue set in, we headed back to Las Canitas. At Las Cholas, a gourmet hideaway, we enjoyed some vegetarian 'empanadas' with 'chimichurri sauce - a local delight!