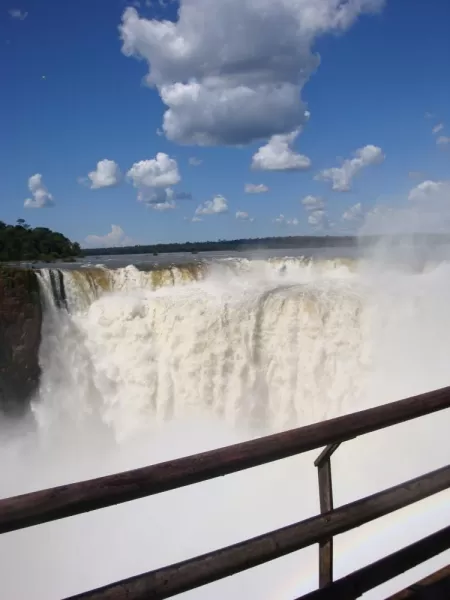 There's never a "Wrong turn" in Buenos Aires!
Another spare day in this city, we decided to wander the streets. I stumbled across some charming sites, my favorite discovery definitely being El Ateneo. A refurbished theatre, today labeled as one of the top 10 bookstores in the world; it was an architectural wonder. We stood in awe, gazing at the frescoed dome roof, the private boxes where we saw avid readers absorbed in their books and what used to once be the stage rehabilitated into a café. I wasn't very impressed with their collection of English Books, but none the less I highly recommend a visit to this place, even if it's just to enjoy a coffee.
Silent Sounds
We soon ambled upon the picturesque pride and joy of the sprawling Palermo Woods- El Rosedal (Rose Garden) In the hustle bustle of life, it's a good opportunity to pause for a moment and truly relish the smallest moments - from the sight of a bee snacking on the nectar, the fresh fragrance of a flower, the avenues of rose plants with their countless colors, the sight of young lovers paddle-boating through the artificial lake of Palermo, the chirping of the birds and simply resting on a bench and gazing aimlessly at the beauty that surrounds and overpowers. A moment to savor!
This posh barrio of the Palermo woods was all about fitness! From cyclists to roller-skaters, joggers to brisk walkers, everyone spent the weekend 'getting in shape.' Could this be due to their high calorie 'Empanada and meat' diet? I must say that's one hor'dourve we sampled everywhere! We had learned that in Argentina, meat was a way of life and if prepared well, it was held in high regard. Similarly in my country, a woman's Dal Makhani (black lentils) is testament to her proficiency in the kitchen.
Tuxedos and Camera Men
On our way back to our hotel we spotted the infamous Café Tortini. Quite similar to Paris, in this city, cafes were the rage and coffee the desired drink. Our experience here was quite out of the ordinary. Café Tortini, known to be a place where business men shook hands on deals and lovers gazed endlessly into each other's eyes. Our experience was of way too many tourists to say the least. Cameras flashed by the second and the waiters seemed more like fashion photographers clicking for the latest issue of Harpers Bazaar. The tuxedo clad waiter we requested, took several shots of us from various angles, quite to our amusement and of course satisfaction. Once again, only in Buenos Aires!
We returned to the hotel to rest our feet. This evening we had booked ourselves for La Rural – an Opera Pampa show. As we reached the venue, a treat of Red Wine and Empanadas awaited us. An atmosphere of an Estancia recreated this music and Equestrian show with folklore and a fabulous display of gaucho skills was one more opportunity to entirely absorb the culture and history.
Musings and Reflections
"Don't cry for me, Argentina, the truth is I never left you…"
The last day of any vacation brings with it the usual pangs of sadness and muted attempts at denial of the fact that in a matter of a couple of days one is transported again to an existence far removed from the excitement and enchantment experienced in holidaying in a new destination. Not to mention the pleasant memories boldly etched in the mind like fresh colors dabbed on a canvas.
Yes, these emotions did come to the fore while we paced the 'Departure' lounge at Buenos Aries Airport awaiting our flight back. But this time the lump in the throat, and the heavy heart usually associated with such holiday partings was accompanied by a feeling altogether new and different. Different from anything we ever experienced while waiting to leave foreign shores for the journey back home. A feeling which almost lulled our senses into believing that Argentina was not just a holiday destination but our home, even if for a brief period of two weeks. The generosity with which the people of this beautiful country spread their warmth, coupled with the feeling of being treated as a special guest without the overt demonstration of typical tourist friendly treatment, made one feel a sense of belonging. A feeling neither Nanita nor I had ever experienced in any foreign land.
Our Argentina experience was a true stimulation of all senses. From the visually spectacular landscapes and expanse of El Calafete, to the cherished moments of solitude in Ushuaia… From the thunderous call of the Iguazu to the voice of the legendary Carlos Gardel that still resonates in the city… From sampling the finest bottles of Vino to savoring the traditional "Mate"…From the bursting excitement of La Boca to the feet tapping tunes of the "Tango"…The inevitable question we asked ourselves was – 'Could our heart have desired more?'