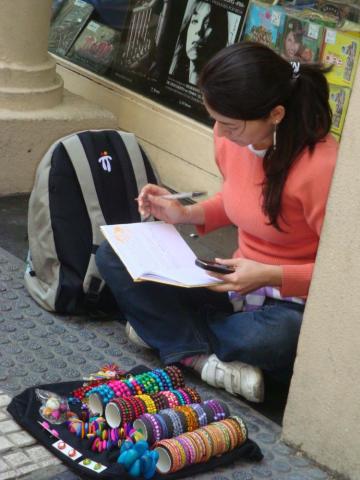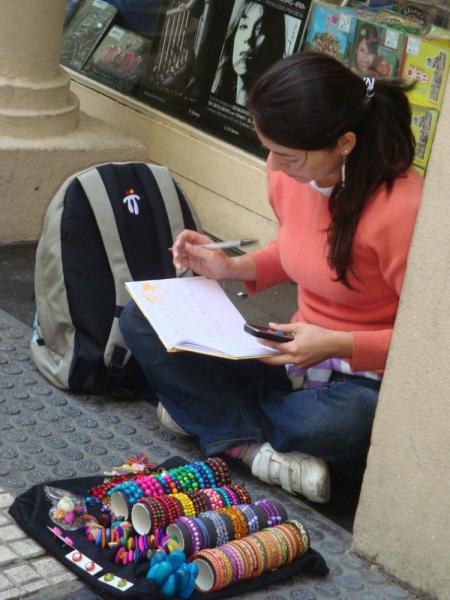 There's something for everyone!
We are fetched by Frasco, our fluent "English speaking" tour guide. It was a relief to have your questions understood and answered in a country where the English speaking are a minority. We were driven to the Tiera Del Fuego National Park. (The term Fuego denotes the numerous fires that were lit by the native Yamanas to scare off impostors.) Hence the name 'land of smoke.' Paradoxically, this land today invites enthusiasts worldwide for all kinds of activities - from hiking, skiing, glacier trekking, fishing and wildlife hunting. Had it not been for the uncontainable desire of the European Explorers, (Megallan to be more precise) this land of the aboriginals would have remained undiscovered.
All geared up in our newly acquired trekking gear, we were all set to go. Our first stop before the trek was the End of the World Post Office where we had our passports stamped with the penguin motif and 'Fin Del Mundo' almost like a validation for us that we had journeyed all the way here. Been there, done that, stamped our passports!! Even now this stamp arouses the curiosity and intrigue of every officer during the 'Immigration' procedure at airports across the world.
A Trek or Marathon?
Our 3 ½ hour trek through the Tierra del Fuego national park had soon commenced. It started off quite effortlessly through some very diverse landscapes - the deciduous and evergreen Lenga Forests, iridescently pebbled shores of the Bahia Lapatia, the swampy marshlands and the Majestic Andes as a back drop.
The trail was naturally paved with a hardy, spongy grass that gave it a uniqueness of its own. The icy winds and the teasing rain had joined hands to provide a thrilling ambience for us. It started off as a fun and enjoyable trek, with Nanita and me enjoying the company of the boys from Madrid. We passed several panoramic spots and halted to take pictures. The winding trail soon ran through elevated terrain and Nanita and I had begun to sap on our energy. The marshy surface had begun to get slippery and my hiking pole could no longer save me. It was a comical moment as I lay flat, sunny side up, all muddy like a pig. I can't imagine my predicament without the poles. Our attire was deceptive making us look like proficient trekkers. Only the seven others who accompanied us were mute testimony to our complete incompetence. They were trying very hard to control their giggles, while we were trying equally hard (albeit unsuccessfully) to match up to our professional look.
The rest halted on several occasions till we caught up and then scurried off again, leaving the two of us with absolutely no breaks through the trek. Paradoxically our trek was soon transforming into a 'marathon run' for us while the rest appeared to taking a stroll in the park. My heart was racing and soon the focus of my trek had turned from the absolutely heavenly beauty around to my heavy panting that only echoed louder in the immense solitude.
I must say that this trek was an eye opener on our very unfit condition. Nanita and I promised ourselves that we would be in better shape for our next trek.
As we approached the perimeter of the bay, we took a pit stop for some coffee and brownies. A sigh of relief! The two European girls along with us were very encouraging. They reassured us that we weren't doing so badly. The rain showed no mercy and we were "all poncho clad" and on the go again.
A Pat on our Backs
The shade of the trees provided great shelter and we scampered along trying very hard to keep pace. There was a sigh of relief when we saw our van await us in the distance. Like a first time marathon runner, approaching the finish line, our stride magically transformed into brisk, long steps in a relief and eagerness to reach the 'End Point.' Nanita and I gave ourselves pats on our backs and felt a great sense of achievement.
We then drove to our camp site where Frasco and the driver prepared a barbequed lunch for us. Fortunately, the youngsters in the group were all English speaking and we shared our travel stories and experiences with each other in the make shift tents pitched all around. 'Delicioso' grilled tomato and melted cheese paninis awaited the vegetarians while the others relished some ham. Nanita and I spent a few silent moments to fully absorb the awe inspiring beauty of the trek. The mesmeric shades of nature and its sweet, stimulating voices were intoxicating to all our senses.
Are we there yet?
We soon were on our way to the river when Frasco asked us if we were up for our next adventure of the day - canoeing. Nanita and I, still soar from yesterday were rather apprehensive. Frasco convinced us that today's canoeing would be a breeze in comparison, except for a five minute challenge. That sounded easy enough, so we got all geared up and began our adventure. We relished the tranquil beauty of the day, canoeing past an archipelago of islands with some Rock Cormorants and a beautifully crafted rainbow.
Once again, in the middle of nothingness, with no sign of civilization around, except we four gals and our driver- cum- canoe expert Leo, our fate rested in the hands of nature. It felt ironic that we were canoeing in the natural habitat of the Yamanas, except with more sophisticated gear and a canoe - almost as if giving us a glimpse into their lives.
Fate had an uncanny twist planned for us and soon the tranquility of the day transformed into howling winds. The timing was far from perfect as were approaching the so called "rough spot." We were soon battling the currents, feeling almost as if we were in the midst of the rapids and hit by a storm. The five of us with steady teamwork paddled enthusiastically but the waves lashed at us with a vengeance and the canoe was soon flooded. I don't remember a time I have been so panicked and terrified. We all tried to keep a brave front and maintain composure, but from within we were all like putty. We felt like hamsters on the proverbial wheel, moving our arms and legs like possessed souls, but still managing to miraculously stay on the same spot.
Leo had been a true life saver! Had it not been for his strong, sturdy rowing, the current would have taken us four chicas back where we started. We requested a short halt by the shore as we began to enervate and could barely feel our arms. The currents however, showed no mercy and Leo finally had to take a call to pull over. We emptied the canoe and gazed at each other helplessly. All the way across the other side of the shore, Frasco waved at us, looking anxious himself. A good 300 meters to go, we decided to waste no more time and psyched ourselves saying "We can do it!"
A half hour of determined paddling and we hade made it to the other side all in one piece! We docked minutes away from the road sign that marked the end point of the Pan American Highway, 17848 km from Alaska. Frasco apologized profusely and informed us that these weather conditions were out of the ordinary. Relieved that we had survived the challenge, we felt a deep sense of triumph from within.
A Mate "high"
Frasco then put his brewing skills to work and conjured up some traditional Yerba Mate (Herbal tea). We all passed it around relishing its unique flavor. It felt like a moment of expressing our bonding with each other and a shared achievement of the day. I have to say, an Argentinean holiday will be incomplete without savoring the local Mate, quite similar to India's Chai except for the "caffeinated high" it provides at the end. The quaint practice of the locals carrying the heady concoction in gourds and regularly sipping on it with metal straws further added to our unique tea drinking experience. Nanita and I ended this day and every other day in Argentina with a "high" from some Yerba.