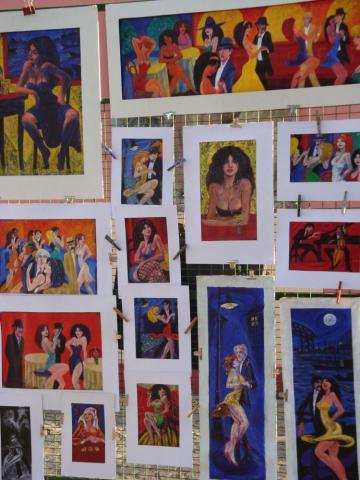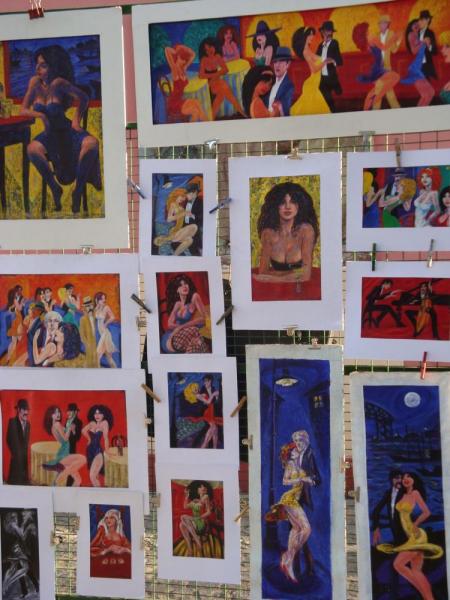 Rappelling Down the Falls "Military Style"
We began our morning enjoying the sit-out breakfast in our patio. A platter of assorted fruits and freshly squeezed juices were sent to the room along with some local cheese and coffee. A late start to a lazy morning, we decided to briefly explore the small and quaint town of Iguazu. The taxi driver dropped us off at a nearby restaurant where we enjoyed an appetizing Italian Meal. We visited some local stores where we shopped for souvenirs. We shortly decided to head back to the hotel in order to prepare for the day's excursion.
We kicked-off this excursion in what appeared to be a 4x4 truck outfitted with many benches. We were taken for a bumpy fifteen minute ride to what felt like the middle of nowhere, but actually was the "base camp" of the adventure – a military area hidden away in the forest.
We were soon lined-up, single file, for a hike up an unexpectedly steep terrain. I started-out in front of the line but soon slipped way back. I realized how out of shape I still was, as the loud sounds of my panting enveloped me. Through out the trek we could hear the humming sounds of hidden birds. We soon found ourselves at the precipice of a 20 meter gushing fall. Barely did we overcome our awe at the height of the falls that the guide informed us in a very matter of fact way that we would be rappelling down the falls. Dumbfounded, I tried really hard to get my wits together. The guide proceeded to attach a harness to my waist and hooked me onto a rope. All clasped-in, I began to rappel down, (to my amazement) taking perfectly construed steps. It was almost too easy, but just as I started to get the hang of it, I found myself flung into the gushing falls. Completely baffled, as to how I managed to lose control of myself, I struggled to get through the latter part. I soon felt my feet again and managed to gather my bearings, only to catch a glimpse of our Porteno who shot me a mischievous smile. I then realized it was all in good humor. I must admit though, that this incident did make the entire experience a whole lot more exciting. Next, I saw Nanita and the rest of our group stumble exactly the way I did, I didn't feel quite so embarrassed since I was not the only guinea pig.
Flying dragons
Dripping wet but now fully charged up by our rappelling experience, we resumed our trek through the forest. But no sooner did we start; a blood curling scream escaped my lips when I heard the quick shuffle of the leaves and a tan colored animal approach me. The guide halted asking everyone to 'hush hush'. This was my first jungle trek and I was not about to be hunted! Raw fear coursed through my veins. When we figured it was a forest deer, everyone broke out into a giggle but the thought of an animal two feet away from me, had my heart racing.
I knew I had signed up for an adventure but its true definition was now unfolding.
We walked along a short path to the zip line station. An elongated cable connected 4 trees. Our guide presented a careful yet somewhat comical demonstration of the various techniques we needed to grasp. We donned our neon helmets and cloth gloves and lined up in eager anticipation. With my first kick off ground, I found myself flying over the jungle canopy, feeling exhilarated and electrified. I could feel the rush and the momentum, almost feeling like one of the flying dragons from the movie Avatar.
As hunger conquered and exhaustion kicked in, we hopped back onto the truck for our ride back to the hotel. On reaching, we unwound at the hotel Jacuzzi over a bottle of Argentinean wine. The warm laps of the water complemented the contemporary flavors of a good New World wine providing a fitting conclusion to an action packed and memorable day.