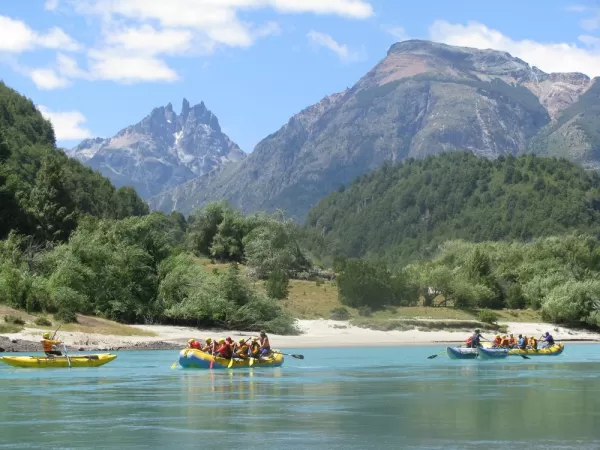 My first experience with a ducky was a 20 mile float trip with an old friend on the Yellowstone River. I've come a long way since then. That calm, wide river was more than forgiving on my giant rubber boat. As I was about to find out, duckying on the Rio Azul would be anything but...
The group divided into two today to either ducky or horseback ride. Due to the fact that I took some wicked falls off of a horse in the fifth grade, I obviously opted to navigate my own watercraft.
Our group got dropped off in the glorious Azul Valley, which looks like a scene plucked directly off of a postcard, and hiked a half-mile to our put-in. The river was silty-stemming from a volcanic eruption a couple years back that still affects the entire valley-but still clearer than most rivers in the states on their best days.
As we began paddling, I realized that most of the day would perhaps be dodging rocks as opposed to hitting the giant waves that I was used to on the Fu. It took our group a bit to get into the groove. Luckily, I had plenty of duckying experience, and my nose-dives into rock fields were kept to a minimum. The group took some spills, which in turn led to a lot of laughs and a few bruised tushes.
Just before lunch, we hit the biggest rapid of the day. The entire river narrowed into a small, meandering channel, and it was our mission to get our duckies down with great success. For any of my friends that tube the Blackfoot, think Thibodeau on steriods...The crew had a 75% success rate, and without a doubt, no matter whether or not we stayed in our boats everybody came out of the tiny rapid with a smile!
We paddled into a glorious canyon that had the most incredible rock faces I've seen. Although I was surrounded by several people, the isolation that the canyon walls provided gave me ample time to reflect. It was beautiful.
Lunch came and went, and it was up to the group to decide whether or not we wanted to continue paddling to the confluence of the Rio Azul and the Futaleufu. Luckily, it was a unanimous decision: onward we would go! Immediately as the current of the Fu took my boat, I could feel the magnitude of the water change. We went from a very low-volume tributary to a major, high volume river. Like terrified sheep, we followed our shepherds without questions. Avoiding holes and pour-overs, we went down the meat of a couple class III rapids. Another mission accomplished: I'd duckied on the Futaleufu River.
As our guides helped us reach our take-out and decided to continue on to ducky "Terminator", an insane class V rapid, we were informed that a wine tasting featuring local wines from Chile and Argentina would be awaiting us at camp. Certainly not a bad way to end a tiring day!
The wine tasting was incredible-Malbecs, Syrahs, Pinots, the whole works. Anyone who was interested in sampling the selection was given not only their own sipping glass, but also a brief history into the idiosyncrasies of each wine's production. I also learned a lot about how to look professional while sampling wine, which is something that I apparently was lacking.
The wine tasting was a perfect liaison to a raucous South American dance party. The intercultural mingling was outrageous. Costa Ricans dancing with Californians, Peruvians dancing with Montanans-the whole group was really cutting a rug. Dancing is perhaps my absolute favorite thing to do in the entire world-I often find myself the solo dancer on many occasions, and dancing under the Patagonia stars was just icing on the cake to yet another spectacular day.