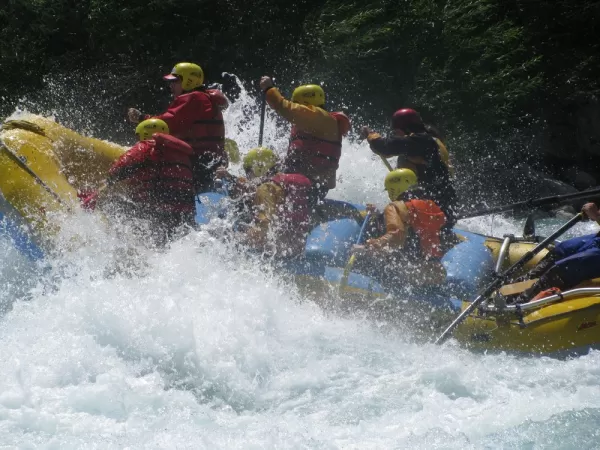 The pitter-patter of the rain still hadn't ceased. I opened my tent door to realize that the weather hadn't changed and today we would have to find alternative activities to the typical river recreating. As Claudio cooked me a delicious breakfast of eggs and potatoes, I tried to muster up enough motivation to get out of my warm and cozy tent and into the elements. Finally, the smell of garlic and onions prevailed, and I put on my warm layers and mozied over to the kitchen to scarf down my breakfast.
This evening the crew was planning on going to the Futaleufu Rodeo. Having spent plenty of time in Montana, where some of the best cowboys call home, I was more than thrilled to see a traditional Chilean rodeo. From what I know, rodeos are less about the wrangling and more about having a great time with friends. I was hoping that a rainy day would not get in the way of a good time.
As the day drew on, the clouds parted and all of us became hopeful for a clear evening. We spent the day relaxing in the sauna and catching up on journaling and reading. It was nice to have a vacation day on my vacation. I planning on getting a ride to the Chilean border with Bio Bio the next morning, so I wanted to soak up every last minute I had in this marvelous valley before I returning to the real world and the reality that is called "winter" in Montana.
We heading down to town and walked to the rodeo grounds. It was a really great scene-the rodeo was held on the outskirts of town with ample stadium-style seating to go around. Like the Montana rodeos that I'm familiar with, there was more of an emphasis on the cerveza in your hand than the roping and riding. The rodeo was a really amazing insight into Chilean culture. Apparently rodeos are cross-cultural paradigms-although there were things about the Futa rodeo that were uniquely Chilean, I could've just as easily seen myself back in Gardiner, Montana and felt just as at home.
As the sun set, the rodeo wound down and I decided to enjoy some dancing with the Bio Bio crew. We went to a local fishing lodge, showed off our moves and finally made our way back up to camp. Before I headed to bed, I took one final look at the glorious Patagonian sky. I had a long day of travel ahead of me tomorrow, and I wanted to make sure I had one last glimpse of the constellations of the Southern Hemisphere. The thought of leaving was almost unbearable, but the faces of my friends in Missoula filled my dreams that night. The last leg of my journey was about to begin.