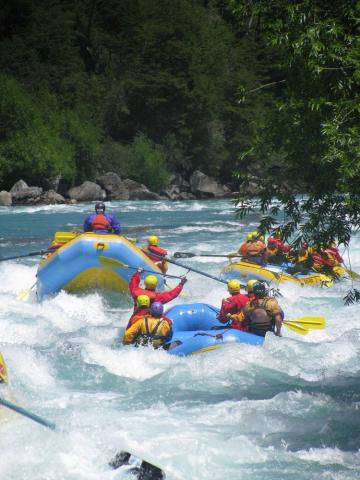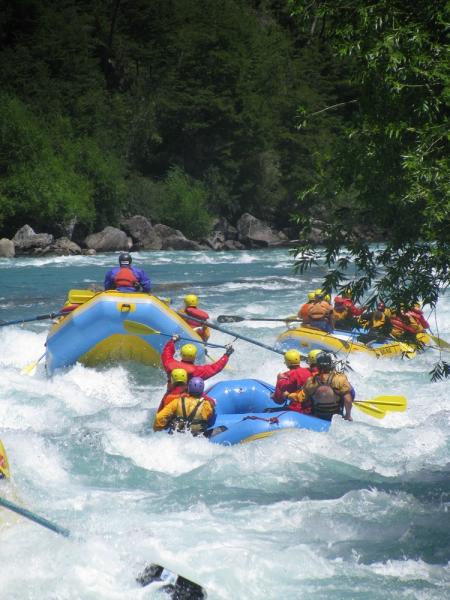 The morning was full of lots of hugs, exchanges of phone numbers and goodbyes. The gang was heading back to Bariloche and then off to return to real life. I had some free time on my hands, so I decided to stay in the valley and camp with my friends from the states. It's not very often that you fortuitously stumble upon good folks from your past in the middle of Patagonia.
I took the bus into town with the rest of the group, did some grocery shopping and waited for Edgar to scoop me up and take me back to Cara del Indio, a campsite where the kayaking world congregates. I was to be an eddy-flower for the next few days. Lorenzo kindly gave me an incredible camping hook-up. I hadn't planned on needing my own shelter, so I opted out of bringing a tent. Without Lorenzo, camping for 2 nights would've been very interesting.
I set up my Eureka-I'm used to traveling light and using a one or two man tent, so when I unrolled the body and realized there was room to comfortably sleep a small family, I was more than excited. I'm certainly not accustomed to being able to stand up in my tent. As I pounded the tent stakes into the ground, I looked up at the clouds rolling in and realized that for the first time in a week, the sky was about to dump buckets of rain. Just my luck-my first night out of the swanky Bio Bio "tents" and I encounter an infamous Futa Valley rainstorm.
After I triple-checked my rain fly, my buds and I loaded into Claudio's truck and headed down the road to yet another asado. Although my stomach could not fathom the thought of accepting any more lamb or beef, my olfactory senses were on a different page. The smell of roasting meat is something that this vegetarian still hasn't gotten over.
The asado was hosted on the grounds of another rafting company in the valley. It was nice to see all of the familiar faces of the Bio Bio crew. Spirits were high and there was a constant stream of giant plates of meat shoved in front of my face. About 3 hours into the festivities, the sky opened up. Everyone embraced the rain and put their rain jackets to the test. It was a really beautiful scene-people celebrating their love of an incredible river.
Finally, after all of our clothes were sufficiently soaked, we headed back to our camp to get into our dry shelter. Now, more than ever, I was thankful for my loaner tent. A rainy, dreary day would be all the worse without a shelter or a sleeping bag.
The pitter-patter of giant raindrops drowned out the sound of the raging river as I drifted into dreams.