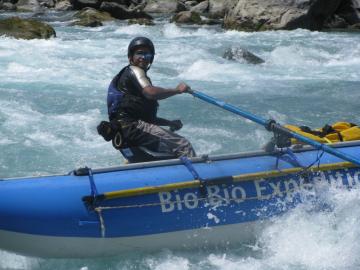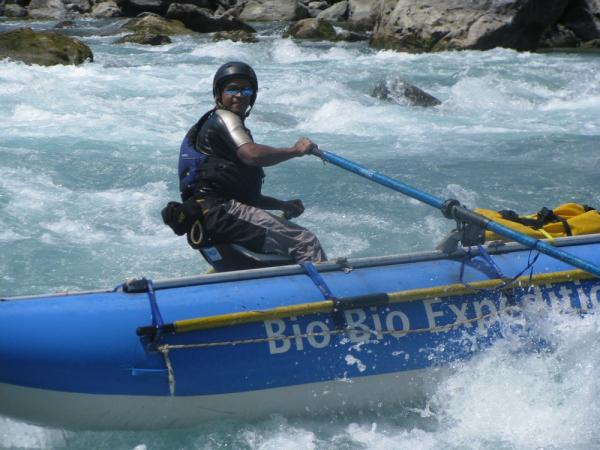 Today would be, as Jorge called it, "The best day of our life." We would be conquering Inferno Canyon-a beautiful, deep Class V canyon with two portages. We had an atypically early morning-Phil's knock came at 7:30 instead of 8:00, and everyone was sure to eat enough protein to get them through a tough day of paddling.
We put in on the Rio Espolon, giving our muscles time to warm up to the Canyon. I had switched to Lorenzo's boat for the rest of the trip. Greg, who had been paddling a cataraft for the first two days, had opted to go with his wife, Alice for the canyon. Although I was sad to bid my old boat farewell, I was equally as excited to have Lorenzo as my guide.
At the confluence of the Espolon and the Fu, we eddied out to have a safety briefing and do some communal stretching. Everyone was encouraged to share their favorite stretch. I busted out my favorite from my days of college hoops. We all had butterflies in our stomachs, not knowing what to expect from the infamous Inferno Canyon.
The first rapid was Entrada, or Entrance Rapid in English. Nate and I were up front, setting the pace for our boat. We gathered momentum and hit a wave that completely engulfed our entire boat. We surfed for a second and emerged just in time to see a giant wave train in front of us. The water in the canyon is HUGE! I most certainly did not want to swim. We made it through and turned around to look at what we had just done. Woah. It was truly incredible to look back on the crazy whitewater that we had just gotten ourselves through.
The next rapid on our plate was dynamite. It is a fairly new rapid, caused by the creation of a road above the river. What used to be a class III rapid was turned into a gnarly class IV+ rapid with some pretty heavy consequences. Lorenzo and the other guides went to scout. We were to go last, and after seeing the other two boats go through, the butterflies in my stomach were back. The issue with Dynamite is the force of the powerful water pushes the entire river into a wall on river left. Hitting that wall means a virtually eminent flip.
As we made our way into the rapid, I could tell by Lorenzo's voice that this was a no-joke rapid. We really dug it in, but inevitably we found ourselves on the wall. On Lorenzo's command, we high-sided and saved ourselves. The adrenalin was on high for our entire boats. After a paddle high-five, we looked at the rest of our crew and noticed the excitement in their eyes. We made it.
The rest of the canyon was indescribable. After portaging two rapids-Zeta and Throne Room, we continued on on journey with some more class IV rapids. Finally, we made it to flat water where Annie and I got to row the boat a bit. What a feeling that was...having the opportunity to row a boat down the Futaleufu.
We returned to camp for the usual antics. A happy hour spent with great people followed by my favorite dinner of the week-an incredible curry that melted in my mouth. As I drank a glass of a fantastic malbec, I realized, dreadfully, that I would be leaving this unreal valley in just a few days. It was a thought that I tried my best to get out of my head.