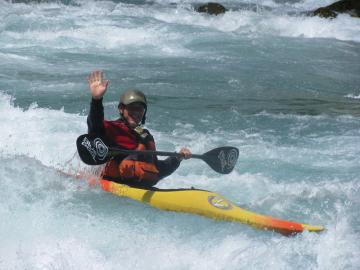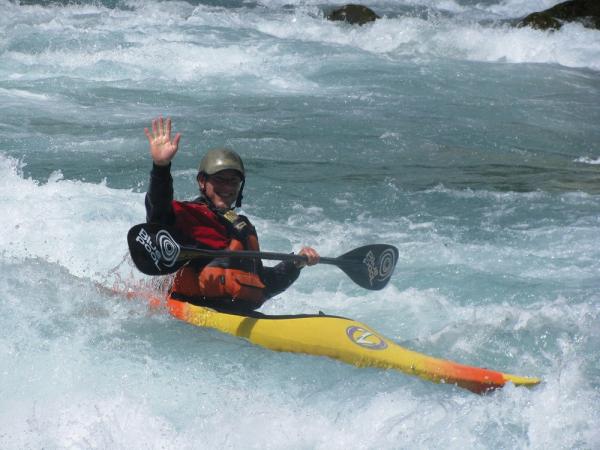 Annie and I finagled our way into a full day of kayaking with Piero. After a great deal of batting our eyelashes and significantly more begging, Piero agreed to spend the entire day with Annie and myself practicing rolls, peel outs and ferrying. Our morning was more than relaxed(the three of us were still enjoying the dregs of our late-night dance party), and after we rested our weary souls, we geared up for the trek to the nearest eddy.
After 30 minutes of paddling upstream, unsuccessfully attempting to keep my boat straight, we were informed that we would be portaging for about a mile. The "portage" consisted of getting scraped by branches, slipping on rocks, and getting my sunburned, chaco-wearing feet stuck in knee-deep mud. Annie and I looked at each other and wondered just how much we really wanted to be kayaquistas.
Finally, minutes from asking Piero if he was leading us on some sort of death mission, we made it to our eddy. We stretched out a bit, and then piled back into our boats for a roll session. Piero's advice was simple: "Its easy, just don't screw up." Eloquently said, the message was in the back of my mind as I was constantly flipped over in 45 degree water. Annie and I were getting the hang of things. Most often, both of us would pop out of the water assuming that Piero had used his sneaky, Peruvian ways to flip us back over, only to find out that he was nowhere to be found and it was our own hips that had snapped us upright. Ahh, what a feeling. We were on cloud nine.
While the three of us were lunching on melon and chocolate, I noticed a boat floating through Himalayas, a class III+ rapid just above our eddy. Piero went to rescue the boat and left Annie on our own. I had heard rumors that a couple of friends from Missoula were in Chile for a kayaking holiday and I was strangely hopeful that the boat belonged to one of them. It was a longshot, but traveling is always a reminder of just how small the world is. After a few minutes Piero returned with the boat and a group of paddlers met us in the eddy. The boat belonged to their friend, and when I asked if they knew the whereabouts of my Missoula pals, they gladly informed me that they had been traveling companions for the past month!! The world certainly is small! My new friends invited me to an asado, and promised that they would relay the news to my buddies. Somehow the only thing that could make my smile even bigger on such an epic day had happened: I would be spending time with my pals in the middle of Patagonia.