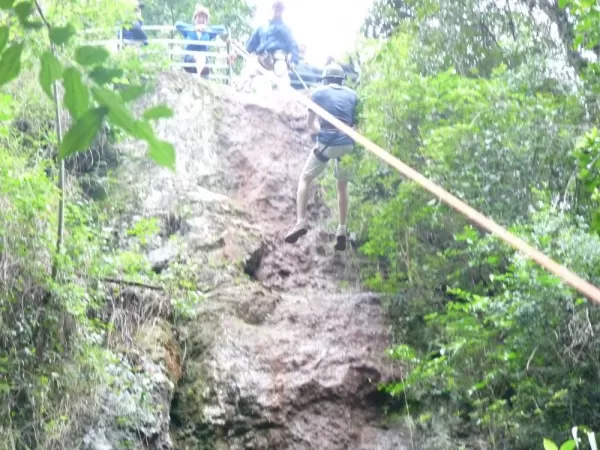 Today we visited the Falls with Celia as our guide. It was a beautiful sunny day, and our first stop was Devil's Throat by way of a Disney-like train ride, then a rather long walk across a 5' wide zig-zagging catwalk. Luckily, the smart people at Adventure Life had suggested we bring ponchos with us to the Falls, because once you get up close to Devil's Throat, you get soaked by the spray! The beauty, raw power and thunderous noise was amazing to see...WOW!! On our way back we saw some Coaties, really odd looking animals, like a raccoon with a long nose.
Our next stop was the Upper Trail, and we finally saw what I had read about: lots and lots of beautiful waterfalls, and the rainbows created by the sun and spray...just breathtaking in scope and grandeur.
We stopped for a quick lunch in the park (more meat!), and then Celia put us on a truck for a safari ride through the jungle to our next extreme sport: a boat ride into and under the waterfalls...Yikes! We all got totally soaked, especially the boys who decided to rough it without the ponchos (no showers were needed that night for them!) I should mention that before we boarded the boat we saw the most beautiful variety of butterflies sunning on the stone path to the dock. apparently there are 400+ species of butterflies in that area...gorgeous! (see the photos)
We ended our day wet and tired back at the Lodge, and unanimously decided to eat dinner there again...another fantastic meal. More post-dinner fun in the Rec room with Foosball and Pool.