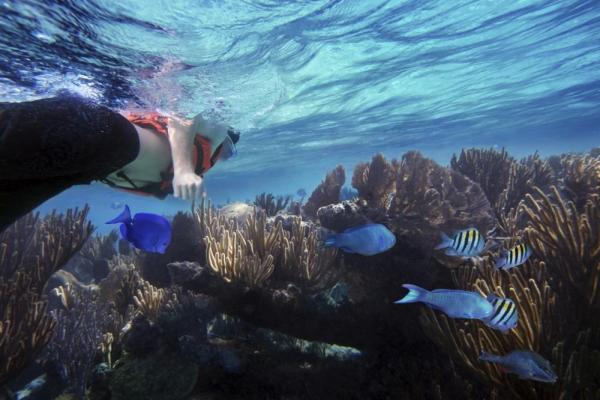 We just received an email from one of our travelers, Mike Jarosick, who returned from a trip to Belize. Sharing our sentiments for
responsible travel
he wanted to share with fellow Adventure Lifers information he learned regarding the effects sunscreen has on coral-bleaching. This subject is particularly relevant to Belize, which is home to the largest coral reef in the Western Hemisphere. I love that Mike has returned home now an ambassador for the environment he had the chance to connect with during his
Belize tour
. Hats off to you, Mike! It's clear you know how to travel-well.
Sunscreen and Coral Reef Bleaching
A very telling study came out in 2008 by Roberto Danovaro and his colleagues at the Marche Polytechnic University in Ancona, Italy on the impact of sunscreen on the health of coral reefs. Their findings included that between 4000-6000 metric tons of sunscreen washes off swimmers and snorkelers into coral reef environments -- annually. A stunning figure. And that four very common ingredients found in most sunscreens cause complete coral bleaching, even at very low concentrations. As a result, 10% of the world's coral reefs may be endangered by sunscreen-induced bleaching.
The main culprits? These four common sunscreen ingredients:
-Paraben
-Cinnamate
-Benzophenone
-Camphor derivative
The truth is it only takes about 20 minutes for a quarter of the sunscreen we lather on to protect our skin to wash off -- waterproof or not. To better protect our skin, AND our environment, covering up in wide brim hats and wearing a swim-shirt or wetsuit are simple options that don't wash off. Or use eco-friendly chemical sunscreens. A quick Internet search will lead you to a number of brands offering reef-safe options. I'm a personal fan of the brand
Badger Balm.
For more information, take a look at the report by National Geographic,
Swimmers' Sunscreen Killing Off Coral
or you can read Marche Polytechnic University's original report,
Sunscreens Cause Coral Bleaching by Promoting Viral Infections.