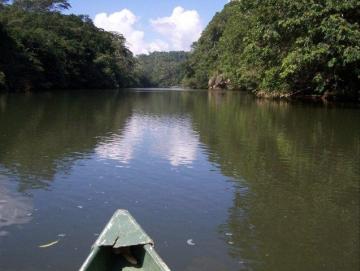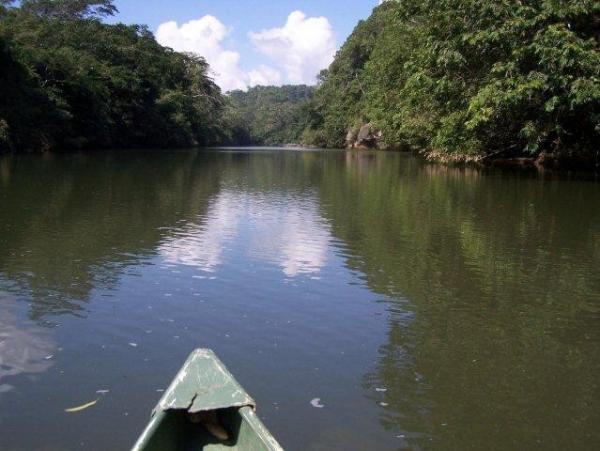 Belize is an extraordinarily beautiful and peaceful country, only the size of Massachusetts or Wales with a population of just 294,000. As a result, its wildlife and environment have been able to both survive and thrive, combining tropical rainforest with a superb coral reef which shadows its entire coastline. The most astonishing thing is that, despite its bordering Spanish-speaking countries of Guatemala and Mexico, Belize is English speaking! A naval victory by our British boys over the Spanish in 1798 led most of the inhabitants to consider themselves part of the British Empire. In 1862 it became the Colony of British Honduras and, looking once again at my childhood stamp album, I still have British Honduras postage stamps!
Belize was granted independence in 1981 but remains a member of the British Commonwealth with the Queen still appearing on coins and banknotes. All road signs are in English, which we found a little strange at first, more so in that the entire country contains just four paved roads! The Belize dollar is permanently pegged at a rate of 2 to 1 with the US dollar and it effectively has a dual currency with $US being accepted everywhere.
The people are charming and delightful, and the laid-back ambiance and slow pace of life makes Belize both a retirement haven and a wonderful place to spend a vacation. There are direct flights on Saturdays from Newark to Belize City and we were most impressed with the efficient service of Adventure Life in booking the holiday. Half our week was to be spent in the jungle viewing Mayan ruins (my half!) and the other on the beach (Beth's half!).
On landing, we were met by a guide from Pook's Hill Lodge and en route to the Lodge we stopped off for tour of Belize Zoo, 29 miles out of town and more a home for orphaned and abandoned native animals in the setting of a botanical garden rather than a traditional zoo. Peering through the tangles of vines and shrubs we were able to see tapirs, jaguars, harpy eagles (the largest eagles in the world), and jabiru storks.
Continuing west and leaving the highway for a long and bumpy dirt road, we arrived at our remote jungle lodge in the Cayo district in the Maya Mountains, where we had a very warm welcome and were shown to our cabana. Quite an experience to be in a pristine Belizean rainforest for a few nights. Pook's Hill Lodge is situated within a 300 acre private reserve with meals served in a dining room overlooking the forest canopy. It has our highest recommendations.
A particularly interesting feature was the fact that at the heart of the property, and overlooked by our cabana, was a Mayan residential complex dating to the Terminal Classic period (830-950AD) and probably lived in by a wealthy extended family. The central plaza was sometimes used by the Lodge for games of croquet. As an experienced croquet player I suggested to Beth that we played a game true to the Mayan tradition of the loser being sacrificed. She declined, saying she did not want to lose me this quickly!
On our first full day we headed further west with our excellent local guide, George, almost to the Guatemalan border to the town of San Ignacio. This was the last frontier town on one of the obscure corners of the British Empire and several of its buildings retained a faded colonial charm. Here we boarded a canoe for George to take us out into ' the heart of darkness' on the Rio Macal. He was a wonderful naturalist, spotting animals and birds on the banks and trees that we had no idea were there, such as massive iguanas basking on branches.
After the canoe trip and lunch, we headed to the Mayan ruins of Xunantunich, crossing the Mopan River via a hand-winched ferry. Xunantunich, once an important ceremonial centre, was abandoned around 850AD. The dominant feature is the 130ft high El Castillo temple, offering superb views over the jungle landscape and the three plazas of the ruined city. It was here that, from the jungle, we heard the cry of the howler monkey for the first time, a roar very much like that of a jaguar.
The next day was the sort of experience I had journeyed for! Up early with a new local guide, we had a long drive over the most appallingly mind-numbing and bone-crunching dirt roads through the Mountain Pine Ridge Forest Reserve to a remote military outpost. We were heading for the massive ruined Mayan city of Caracol, but armed hold-ups of tourists in 2005, 2006 and 2009 meant that the site could only now be accessed in convoy with an armed military escort. The few intrepid tourists arrived by 9.30am and then off we went in convoy with a truck containing soldiers.
Caracol, uncovered in 1937, was one of the most powerful city-states in the Mayan world with an estimated 35,000 buildings although only a small fraction have been excavated. At its centre are five plazas, 32 large structures, a ball court, and an astronomical observatory linked by causeways. There was no reliable water supply so the Mayans built a reservoir here and irrigation systems. Throughout much of the Classic period (250 - 800AD), the two Mayan superpowers Tikal and Calakmul contested dominance of the Mayan region. In 562AD upstart Caracol forged an alliance with Calakmul and defeated Tikal, humbling it for 120 years. Tikal had its revenge but by the eighth century the age of superpowers was over and spiraling inter regional warfare was a large factor in the ultimate breakdown of Classic Maya civilization. In Plaza B at Caracol is the massive Caana, or 'Sky Palace' complex, the tallest Mayan structure in Belize and among the greatest Mayan structures of Mesoamerica, containing palaces, courtyards, pyramids and burial chambers. Caracol was simply awesome and the few tourists on site assembled at 2pm for the departing military escort with lasting memories, not least the journey out since rain had now turned the dirt tracks into quagmires. The heavy rain and swollen rivers affected our following day at Pook's Hill. All water-related trips had to be cancelled so instead of experiencing some caving we took a couple of guided jungle walks in the preserve.
The next morning we said our goodbyes to the wonderful staff at the Lodge and were driven back to the airport at Belize City for a 15-minute internal flight on a 14-seater Cessna to the tropical paradise of Ambergris Caye. The northernmost and largest of Belize's cayes, Ambergris is a strip of land and lagoons 25 miles long and 4 miles wide, separated from Mexico by a thin sliver of a channel. Most of the 3,000 population live in San Pedro, a few streets of colourful wooden houses and soft sandy streets down which most people drive golf carts for transportation.
We stayed at the Blue Tang Inn by the Caribbean and for the next three days enjoyed the most wonderful cuisine in the town. Relaxation and snorkeling are the orders of the day here. Belize has the world's best natural aquarium within its long coral reef. One day we took a boat trip out to Hol Chan Marine Reserve, donned snorkeling gear, and simply marveled at the underwater world below us on the reef, seeing myriads of tropical fish, large groupers and a moray eel.
The next day saw a longer boat trip. The skipper on the small boat pointed out the life jackets then told us that in Belize the captain always abandoned the boat first so that he could live to tell the tale! We moored at a secluded caye which was a natural habitat for manatees, then barbecued at the little island of Goff's Caye, a patch of sand and coconut palms perched on the edge of the reef. Here we had our second snorkeling experience before mooring at a spot of water where sting rays and nurse sharks gather. You could swim with them and what an experience it was to have rays and sharks (small ones, fortunately) cruise by just beneath you. Last stop was at the island of Caye Caulker, a smaller and less developed version of Ambergris, just 5 miles long and 2,000 ft. wide. Here, we decided, was the perfect retirement spot, a paradise on earth with a little air strip to get you back to the mainland when necessary!
Our journey home the following day was easy, a short internal flight back to Belize City, then Continental Airlines straight back to Newark and to an unseasonably warm NJ at 60 degrees. We can highly recommend Belize to you all. We will return there, no doubt about that!