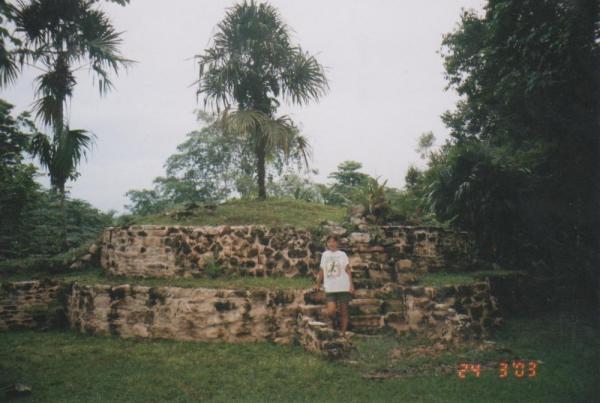 I had been exposed to the idea of traveling to Belize several years earlier when a friend told me about living there when her father was a missionary. I tucked this idea into the back of my mind and made four other trips before I decided to look into a trip to Belize. My husband had succumbed to esophageal cancer seven months earlier. He had give me money to take a trip whenever I could. I had taken care of him during his four year battle with cancer and was not able to be away from him more than an hour or so the last six months of his illness. He wanted me to take a trip as he knew I loved to travel.
My friend Sarah, and I left the Austin Bergstrom Int. Airport on November 15, 2003. My son, Cody, took us to the airport. Our flight was delayed about 30 minutes while they checked the air filters and found the water was contaminated. Eventually, we were on our way.
We reached Belize City about four PM. We were met by a driver for Pook's Hill (our jungle lodge destination). The last five and a half miles we rode was off the main road and very bumpy so it seemed more like twenty miles. It was dark the last hour or so of our drive. Since there wasn't much light when we arrived (only on the large verandah and a few trail lights), we could not tell much about our surroundings. We were fed a wonderful meal when we arrived. Local girls came in to cook all three meals each day. We had our meals in a long room below the verandah where there were several long tables. Other travelers were there as well. We were served rice, fried plaintain, steamed vegetables, beans, salsa and fried eggplant.
When we finished eating, Sarah and I went to our round thatched roof lodge and found a visitor. Since the door left a crack of about an inch from the ground, a green lizard had made himself at home. We named him George and he stayed with us the entire time we were there. We were tired from the long flight and excitement, not to mention the long drive, and retired early. I was anxious for morning and a chance to see our surroundings and what the day would hold for us.