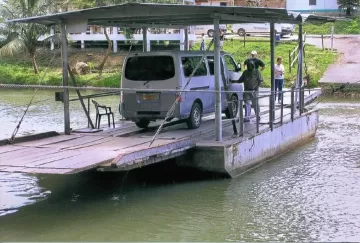 Today was to be another snorkeling day, but we were rained out--stormy sea! We camped out in the dive shop and watched a National Geographic movie on Sharks. Good presentation--they really are our friends and we really are not in their food chain no matter how big and toothy they are.
The sun reappeared and we rode bikes into the town of Hopkins. The people of Hopkins are largely Garifuna, a culture whose ancestry is a mixture of Carib and escaped African slaves. They have their own language and are quite superstitious with a traditional ceremony called ''Dugu.'' This is a big family reunion in which deceased relatives also attend and are believed to take possession of other celebrant's bodies. Pretty creepy, but interesting. One of our waiters told us he is afraid of the Dugus and stays far away when he sees one.
Most of the staff at Hamanasi are Garifuna from Hopkins and they were wonderful! They were super friendly, personable, happy and contributed greatly to the overall charm of Hamanasi. The children we met in Hopkins were friendly, well spoken and very self-confident. We went into the drumming center; an open air, dirt floor, palm thatch roofed building where the local drummers meet and the kids take drumming lessons and dance. A 10 year old boy spied us and came over to play the drum for us. He was really good! The kids all go to private schools patterned after the British education system. Local elementary schools, mostly supported by religious denominations, then on to High school and Jr. College in Dangriga. If they do well, they can continue on at the U. Of Belize in Belize city. Mode of transportation in Hopkins is via bicycle. The houses are a mixture of two room thatched roof huts with a dirt floor and newer concrete block houses in brilliant colors. They have plumbing, but it seems to be outside. Every house has a clothesline full of wash and cable T.V.