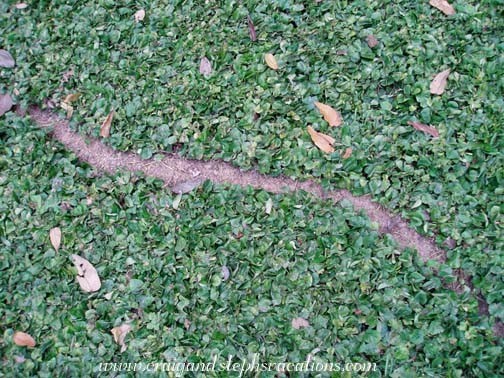 At around 12:30 am, we awoke to the sound of pouring rain. We were glad that Craig had secured the tent fly before we went to bed, but we soon realized that water was leaking right through the tent material itself. Water droplets were dripping into the center of the tent and since the material was failing there isn't too much we could do about it. We put a pack towel between us and situated the two beds around the worst of it. We were very close to the shore and Craig was a bit concerned about the water level rising. Not knowing the river, it was hard to judge whether or not we were vulnerable. Fortunately we had secured the kayaks before going to bed, so at least that wouldn't be a problem. Craig laid awake for an hour or two while the heaviest rain fell.
I woke up at around 5:00 to the sound of gurgling water. All I could think about were crocodiles laying in wait. Craig's sleeping pad was pretty wet, but at least he managed to stay warm overnight as the temperatures were fine. I had remained mostly dry. When we heard Arthur up and about, we also got up. He made us fry jacks for breakfast. They are made of dough which is patted flat and cut into semi-circles and fried in oil. They become very light and have a pocket of air inside. These can then be eaten as is, or with a variety of condiments. We chose to use peanut butter and jam on most of them. We also had cheese, coffee, hot chocolate, and fruit punch. It was a beautiful morning and the mists rising off the river looked spectacular. It started to lightly rain again as we were packing up camp, so that everything became sandy and wet as it was being put away. Of course this seemed natural, as somehow it seems to always rain a little when packing up camp.
By 8:00 we were on the river. Today I wore long pants and long sleeves to protect my sunburn from additional exposure. Craig also had a little bit of sun but seemed a little more under control. After about an hour of paddling, we stopped for a snack of cookies, fresh pineapple, and nachos. There were little tiny toads hopping along the beach, and I caught one. They were only less than an inch in size and so cute. On the river we saw another lone male howler monkey atop a tree. If you didn't catch him moving, you might mistake him for a termite nest. We realized that almost all of the howler monkeys we saw on the kayak journey were alone and wondered why that was. Usually they are in groups unless it is a shunned male, and we wondered if there was some sort of revolt going on in monkey world. About an hour and a half into the paddle, the Bladen River became the Monkey River. Soon afterwards we stopped for a quick rest and had a few snacks on a sand bar. Arthur informed us that we had about an hour more paddling to go. However, when we rounded the next bend we were greeted by David and his daughter Ciara, who were there in Arthur's boat to pick us up.
We packed up all of the gear and got onboard. David captained the boat, maneuvering very slowly and carefully through the river as there were lots of fallen tree obstacles and shallow spots. Soon we were in a much deeper part of the river and there were many more tourist boats cruising the waterway. Eventually we were able to cruise right along making quick time of the remaining ride to the sea. The sun was shining, the wind was blowing, things couldn't have been better. When we reached the Monkey River Village, we docked the boat at a little pier.
We ate lunch at a little restaurant that looked like someone's house from the outside. We had grouper in ricardo spice with rice and beans and potato salad. Craig had a Belikin and I had a Fanta. The lunch was absolutely delicious and it was especially nice to sit in the shade with rotating fans hanging from the ceiling keeping us cool. After that we climbed back into the boat and headed into the Caribbean travelling north towards Placencia. Once we hit the ocean we were able to go considerably faster, and we wove in and out of a maze of mangroves. It was really amazing to see how shallow the water really is in this area, yet we were skimming right across the surface avoiding trouble. At one point we passed by a very small island with a little wooden structure built on it. It looked like it was some sort of shipwreck remains or something like that. Arthur and David were joking about the Rasta man that lives there. Apparently there is a sign telling people to keep out and they were questioning if he even owned the small island to begin with.
We arrived in Placencia at around 3:00 pm and pulled up near Deb and Dave's house. We collected the belongings we had left in their van the day before. Arthur was planning to take us back to Rum Point Inn on his boat, but he had an unexpected village council meeting so he had to run. His brother Ian offered to take us back to the hotel. It took about 40 minutes to get there and we started wondering where we were headed. The tide was out and there was a strong cross breeze so the boat kept getting stuck in the mud. Once Ian had to actually hop out and help the boat along, but most of the time it just required slow maneuvering. He eventually decided to go backwards so that he could steer more efficiently. There was yet another maze of mangroves, and every so often we would see a sign pointing the way to Rum Point Inn. It was rather comical as we felt like we were in the middle of nowhere since the mangroves blocked any long distance view.
When we finally arrived at Rum Point, we collected the luggage we had stored there and headed to our room, #18. It didn't have the same character as our previous "Bedrock"-style room, but it was air conditioned with cathedral ceilings and skylights so we were quite happy. We didn't have air conditioning on the entire trip, something that was really fine with us but if there was one day when it was appreciated, it was today. The last few hours on the boat made us very hot, tired and looking forward to a nice cool clean shower and a comfortable room. We unpacked all of our stuff and laid it out to dry. We took our much deserved showers and then went to the hotel bar for a rum punch. We had previously planned to meet Marlene and Greg at the West Wind Hotel between 6:30 and 7 for dinner.
We took a cab into town. It dropped us off on the main road and we needed to walk back through a small cemetery to get to the hotel. Adding to the ambiance, the power suddenly went out in Placencia. All of the streetlights were out, and most buildings were dark. We found our way to the West Wind, where the proprietor and his cat were sitting in the lobby with emergency lighting. We told him that we were meeting Marlene and Greg, and he told us they had just left for dinner. We were confused because it was only 6:40. He swore that they had left but that they hadn't said where they were going to eat. He was very helpful and even made a few phone calls to local restaurants to try to track them down. The power came back on and we thanked him for his efforts.
We decided that now that it wasn't so dark, we would head out alone and try to find a place to eat. Just as we were leaving, we heard our names being called. Greg and Marlene were returning to their hotel after visiting Deb and Dave and picking up their clothes at a nearby laundromat. They were asking why we were leaving without them. "It's just getting to be 7:00 now," they said. It turned out that the proprietor hadn't even spoken to them since they checked in, so he must have been thinking of the wrong people. Oh well, we were just happy to meet up with them.
We walked over to a restaurant called the Pickled Parrot (their logo is a drunken parrot). We initially sat at a table outside, but it was much too windy and our menus were blowing away, so we moved to a more sheltered spot. It was still an open-air restaurant, but we were more protected from the wind. There were cats wandering around everywhere begging for food and trying to climb onto the table. A few times the bartender came over, grabbed the cats, and tossed them into a back storage room so they would stop bothering us. Adding to the character, there was also a very loud and super drunk woman sitting at the bar and making a fool out of herself. She didn't bother us at all, but we found it all quite amusing as the group she was with kept looking over at us and trying to get her to settle down. Craig got a Belikin stout and I had a pina colada. Craig had a large plate of shrimp curry and I had sweet and sour pineapple chicken with rice and veggies. It was very good but Craig was disappointed that his meal wasn't a bit hotter so he added some hot sauce. That did the trick. Marlene tried to buy one of the Belikin jelly jar style glasses in which the beer was served, but they told her that if she wanted one she'd have to buy it at the supermarket. We had lots of fun talking with Marlene and Greg but the restaurant was closing so we needed to move along.
When we were done with our food we asked if the restaurant could call us a cab, but it turned out that they had no phone. So we stopped in at the Purple Space Monkey with Greg and Marlene for another round. Craig got a Belikin and I got a rum punch. Soon afterwards they turned off the music and announced last call at 9:45, so we asked them to call us a cab. About 5 minutes later, two Creole women in a cab drove up to pick us up. They were a riot, very irreverant. We got "all the way to Rum Point" in about 15 minutes (it would have been sooner if we hadn't made another pickup and dropoff on the way). Actually, the bar we stopped at, Jungle Juice, was very crowded and clearly this was the place to be tonight but Craig and I decided we should stick to the plan and just head back to the room and crash. Although this was our last night and we didn't want our trip to end, it had been a very long day. Once back at the room we went straight to bed.