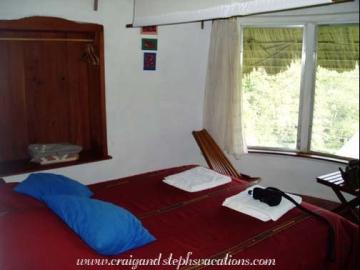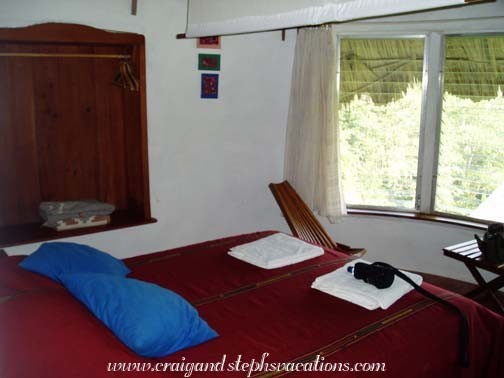 The drive to the Belizean border from Tikal took about an hour and a half. We clicked with guide Ben and driver Roberto right away, and we had a very nice, talkative ride. We knew immediately that we would enjoy Ben's company very much. When we got to the border there were a lot of money changers, etc. We needed to go through one building to check out of Guatemala and then a second building to check into Belize. There was a huge line that snaked out of the second building, forcing us to stand in this "no mans' land" in the very hot, direct sun. After a while, Ben used his influence to get us and some other Americans through the line. Ben tells us the majority of the delays are caused by the numerous Belizean people that were going shopping in Guatemala where the prices are much cheaper. It was taking time for the guards to go through all the things purchased to make sure people were keeping honest with the import rules. Since we were tourists with very little merchandise, Ben was able to get us into a different line where we were shuttled through quickly. At this time Roberto headed back to Guatemala and we hopped into the Pook's Hill Lodge Toyota Hilux.
Ben drove us to San Ignacio, where we stopped for lunch. Of course, it was Easter Monday, and very few places were open. It seems that lots of Belizeans really had crossed the border into Guatemala to go shopping, because San Ignacio was deserted. After driving up and down a few streets looking at quaint houses, and a stopping at a few places doing nothing but getting our appetites going, we discovered that our only options for lunch were a Chinese restaurant and the Wildside Cafe and Teahouse. We chose the latter, a sort of a hippie backpacker hangout near the bus stop that would offer more local food options. Because almost every other place was closed, they were very busy, and had run out of tortillas and bread. Although we were handed a menu listing quite a few appetizing dishes, we soon discovered that until one of the girls had a chance to go to the store, there was actually only one option: rice and beans with a vegetable curry. Feeling like we were a part in the Monty Python "cheese shop" skit we each ordered that, and got a very refreshing banana papaya smoothie to go with it. Although the food was very good we were looking forward to some nice fresh tortillas as well. Not 10 minutes after we finished eating did an adjacent table get a big batch of hot tortillas with their meal. I guess we should have waited for that store run after all.
After we finished eating, Ben drove us to Pook's Hill Lodge. It was less than an hour ride down the main east-west highway before we finally turned off the main road. Suddenly we were on a small dirt road that wound through small houses with many children playing outide and along the street. Apparently this section was named "Phoenix" by the locals as the residents were moved away from areas along the river and forced to settle where there was no running water. Since the farmland along the rivers was owned by others, they had no choice but to move where available land was provided to them.
After another 10 minutes of somewhat bumpy roads we arrived at the lodge. The lodge consists of eight thatched-roof cabanas and a separate building which houses an open-air bar, sitting area, and a screened-in dining room downstairs. It was a beautiful setting and a nice place to settle in after our rather jolting ride. We met Wim and Chantal Decoster, a Belgian couple who work at the lodge. We also met Vicki and Ray Snaddon, the owners. The layout of the grounds was very interesting as the cabanas were neatly placed around the onsite Mayan ruins. Although we could not make out exactly what the ruins once were, they were still familiar after leaving Tikal. We proceeded to our room. It was so hot and humid that we were dripping with sweat and praying the weather would change for the better.
Ben had offered to take us swimming, so we changed into our bathing suits in a hurry. There was a cute little gecko in our bathroom and a not so cute black scorpion in the shower, which Wim promptly removed for us. This made us well aware that any warning we had about checking our clothes and shoes before putting them on was not an idle threat. Ben took us on a short hike through the woods (and over a small Indiana Jones style bridge) to Roaring Creek. It was a nice downhill walk amongst some very interesting trees and plants. We wondered how hot we would be coming back to the lodge after our soothing swim. The late afternoon sun was very beautiful on the sandstone banks. It looked like walls of clay but actually it was all stone. The water was clear, cool, and quite refreshing. Occasional nibbles from the small fish always reminded us that we were in a river in Belize and not floating in a pool back home. Another group of guests (from California and North Carolina) were swimming there as well. One of them let me use one of the inner tubes they had brought down. We had a good time lounging around in the river, letting the current sweep us away.
All of a s