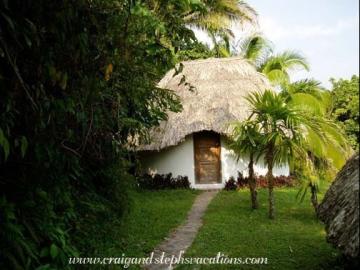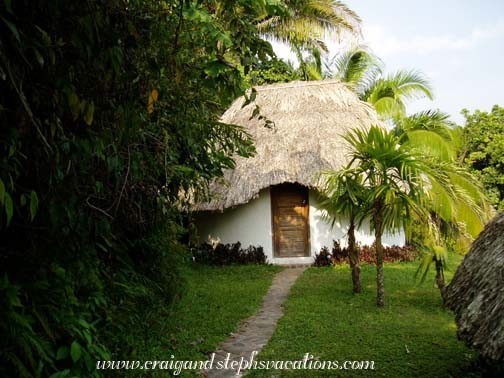 We woke up at 5 am and met Ben in front of the bar at 6 for birdwatching. He had a nice telescope and binoculars. We saw two species of toucan. One had a black body and a yellow bill and belly and there was another one that had more of a green belly. We saw a bunch of other birds as well, including a robin and a woodpecker. We have never really been avid birdwatchers, but we were amazed at how well we could see the birds. We taked to Lena and Vernon from North Carolina, who were at Pook's Hill with friends as part of a Smithsonian tour. At 7:30, breakfast was served family-style in the dining room. We ate with Ben and had granola, fruit, eggs, kielbasa, and toast. Once again the food was delicious and plentiful. The overnight rain had stopped and the weather was much cooler and drier than yesterday.
At 8:30 we left for San Ignacio. We parked on the banks of the Rio Macal and went to hire a canoe. When we arrived there was a group of people cooking and sitting around a little camping area. Not far away from them was an overturned canoe and we wondered if this was for us. At first we felt a bit out of place crashing their party but Ben questioned them and learned that this canoe was in fact left there for us. Craig sat in the front and Ben sat in the back, with me in between. We saw some toucans, orioles, a great blue heron (sitting on a rock and then taking off right in front of us) as well as little star-shaped bats that clung like starfish to rock ledges on the banks of the river. We also saw iguanas and a few dogs protecting the nearby farmland. It was such a peaceful ride and despite a bit of roadwork being done in the distance this was exactly what we needed this morning. It was so nice getting to know more about Ben and having a nice relaxing ride. We heard many different birdcalls, and Ben really displayed his ability to pick out birds hidden amongst the trees. At one point we needed to get out and drag the canoe through an especially shallow area, but most of the time the water level was easily managed. After about two hours of going upstream, we turned around and repeated the journey downstream, arriving back to the car at around 12:15 or 12:30.
Then we drove to the Garcia Sisters' for lunch. We were a little late so they immediately seated us at a small table and served us rice and beans, chicken soup, fresh tortillas, and pineapple juice. It was very good. There was a jar of hot sauce on the table. This looked like nothing I had ever seen before. It was almost all clear with a few pieces of pepper floating around in it. Ben warned us that it is really hot so Craig only tried a few drops in his soup. He said it was by far the hottest thing he had ever tried and he couldn't believe what a great hot flavor only a few drops added to the soup. While we ate there were two boys working around the grounds taking an interest in our lunch gathering. They watched us and played around trying to get our attention as often as possible.
After lunch we met Maria, one of the Garcia sisters. She took us to her outdoor workshop where she was in the process of carving a slate. She told us how she and her four sisters first got interested in slate carving 22 years ago, and how they realized that the artistry was in their blood. Their parents and community thought that they should be working in the fields and selling watermelon. But the girls were headstrong and wanted to make a go of their art. The Garcias pay $1000 for a license to legally mine slate, whereas most people just do it illegally. The land where they used to mine was taken from them, and they are currently fighting for the right to mine there again. They have a clear conscience because they mine legally.
Over the years, the sisters have refined their carving technique. At first, they used to use cement blocks to smooth the surface of the slate. Now they use very coarse sandpaper. They use various blades to carve out the slate. The piece she was working on was rather small, but the larger pieces (some about three feet tall) take about three months to complete. It was interesting to hear that she doesn't look at a design when making the images. They are all from memory and she says she can see what designs belong on each slate. Maria then took us into their little museum, where some of their larger works were on display, as well as some Mayan cultural artifacts (folk medicines and musical instruments such as marimbas and harps). We then proceeded into the gift shop where we were very interested in one of the larger pieces. It was simply stunning and we thought it was a brilliant work of art, but it isn't the sort of thing we could put in our backpacks and bring home with us. Instead we bought a small slate of a Mayan king riding a jaguar and a slate hummingbird necklace. The Garcia sisters have become very involved in the local government and always try to fight the good fight to preserve their Mayan heritage. They are becoming very well known and highly regarded.
It was time to head back home, but first we stopped at a store for headlamp batteries for the big adventure tomorrow. About an hour later we were back at Pook's Hill. Ben had to go to a guide meeting tonight, and he left just prior to a deluge. When it started we were in our room getting things together, so we stayed in the room for only a few more minutes until the rain let up. We took the walk to the bar and talked with Chantal, Wim, Vicki, and Ray. At around 6:30, the Welsh family showed up and we all headed downstairs to the dining room. At 7 we had a buffet-style dinner (turkey, beans, rice, veggies, and potatoes). Craig had a Belikin beer and I had Chilean white wine. Once again dinner and conversation were very enjoyable but we still ended up going to bed at 9. Just as we settled into bed we could hear a scorpion scuttling around in the thatched roof. It seems that they like to climb into the inside of the roof throughout the evening and then go back outside when the sun rises again. We were quite glad that there was a net over the top of the bed, just in case.