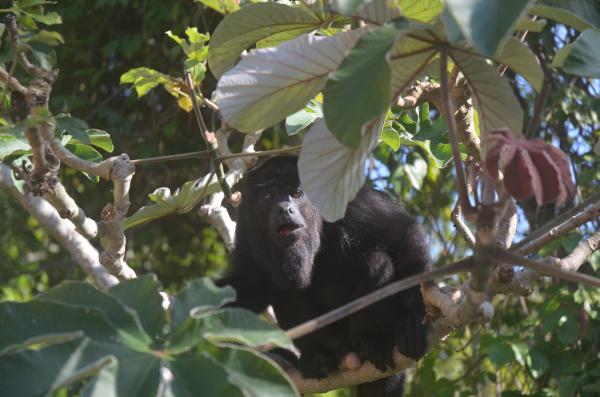 The howling began before sunrise. Having stayed in jungle lodges in Costa Rica and Guatemala, we hoped that we would hear howler monkeys again. This time, it sounded like they were perched in the trees directly above our cabin. As it turned out, they probably were. The other-worldly sound of howler monkeys is hard to describe, a combination of wild animal and horror movie make-believe. During our 4 night stay at Lamanai, we saw and/or heard howlers every day, including a close-up encounter on our deck.
The Lamanai area has been protected for the past 30 years. While there is a village nearby, the lodge is situated on a large lagoon and feels very remote. There are only two ways in or out – via boat up the New River (our arrival) or via 4-seater Cessna (our departure).
The Lodge is located a short walk away from the ancient Mayan city of Lamanai, one of the longest occupied Mayan cities. Our guide Levy was both well-informed and passionate about the Mayan civilization and read aloud the temple inscriptions in the Mayan language. While not as spectacular as Tikal or Chichen Itza, it affords the unique experience of walking among and climbing temple ruins with no crowds. By the time we finished our exploration in the morning, the day trippers from the cruise ships were just beginning to arrive.
During our stay at Lamanai, we took dawn canoe trips and walks, sunset cocktail cruises on the lagoon, night walks and night spotlight safaris by boat where we saw crocodiles and nocturnal birds. There's much to see and remember about Lamanai – the well-informed naturalist guides, the amazing moonrise over the lagoon, the stunning variety of birds in the marsh, and the unforgettable sound of the monkeys.