Turneffe Flats has long been recognized as a premier saltwater fly fishing, scuba diving and marine ecotourism destination. Located on Belize's Turneffe Atoll, the largest and most biologically diverse atoll in the Caribbean, specializing in superior service for a limited number of guests. Awaken in your air-conditioned beachfront cabin to an incredible tropical seascape of white sand beach, tranquil bonefish flats, lush mangroves and the surf breaking over the reef for miles in either direction. Watch a spectacular sunrise from your veranda and when night falls, the stars look close enough to touch. Turneffe Flats is located on a private point with a white sand beach, the reef and a wadeable bonefish flat right outside the door.

Main Lodge
The social center is the Main Lodge. Breathtaking views from the upper and lower decks make the "lodge" a favorite spot for visitors. Dining The Main Lodge includes the dining area and bar. Meals are a tasty combination of Belizean and International dishes served family-style. Fresh seafood, local produce and home-baked pastries are standard fares. Depending upon your plans and your preference, you will have the option to take a packed lunch or return to the lodge for lunch. Following hors d'oeuvres and refreshments, dinner is the big meal of the day comprised of soup or salad, entree and homemade dessert. Entrees vary among seafood, chicken, pork and beef. If you have special dietary needs, the lodge will do its best to accommodate them. The bar is located in the "Lodge" just off of the dining area with plenty of open space to gather around after a day of adventure.

Guest Rooms
Beach Cabanas Eight spacious, air-conditioned cabanas are located on the beach with panoramic views of Turneffe's coral reef. All rooms are furnished with a queen-size bed and an extra-long single bed, ample closet space, chest of drawers and a sitting area. Each room has a large private bath with two sinks and a shower. - Reef Villa The Reef Villa is a three-bedroom villa with common space. The Reef Villa has perhaps had a large beach area in front and perhaps the best view of all accommodations. The common room has a couch and sitting area with satellite TV as well as a small kitchenette but no cooking facilities. The three bedrooms have 2 queen beds, 1 queen bed and 2 single beds. All rooms have private bathrooms. - Garden Villa Thee Garden Villa is the newest and most deluxe accommodation. The spacious common room is a great gathering area for friends or family. Satellite TV and a small kitchen (without cooking facilities) are available. The Garden Villa has three nicely decorated guest rooms, each with a private bathroom. The view from the Garden Villa is of Turneffe Flats grounds and the Caribbean Sea.
Rooms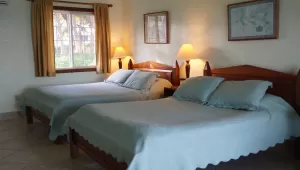 Beach Cabanas
Eight spacious, air-conditioned cabanas are located on the beach with a wonderful view of Turneffe's coral reef and the Caribbean beyond. A small oceanside deck, ideal for morning coffee or evening relaxation, has been recently added in front of the cabanas. Each of the cabanas features two queen beds and a private bath. All accommodations at Turneffe Flats are air-conditioned.
Turneffe Flats Adventures

FLATS FISHING BELIZE
For more than three decades, Turneffe Flats has been known as one of the world's premier flats fishing destinations combining a remarkable fishery with excellent English-speaking guides, top-notch equipment, superior accommodations and service. The ability to sight-fish for BONEFISH, PERMIT and TARPON on any given day makes Turneffe one of the few places where a Grand Slam is always a possibility.

Bonefishing
Bonefish have been a primary target of Turneffe Flats' anglers for more than 30 years. While wading the expansive flats on the seaward side of Turneffe, you will regularly see large schools of bonefish providing an unequaled opportunity for new saltwater anglers to learn the basics of the sport. There are also plenty of challenging opportunities for those who enjoy stalking larger fish (some in excess of 10 pounds) in skinny water. Our oceanside flats are among the most picturesque flats anywhere.

Permit Fishing
A permit is the prime objective of many anglers at Turneffe Atoll. With Turneffe Flats leading the way, Belize has gained a reputation as the permit capital of the world. Many guests have celebrated their first-ever permit with us and return year after year to take advantage of Turneffe's exceptional permit fishery.

Tarpon Fishing
Tarpon is perhaps the ultimate saltwater fly fishing challenge. Although there is always some resident tarpon to be found, our migratory tarpon season extends from May to October. Tarpons inhabit the creeks, channels and lagoons of the atoll and most tarpon jumped are 60-90 pounds, with some fish in the 100-150 pound range and occasional monsters approaching 200 pounds.

SCUBA DIVING IN BELIZE
We can easily access more than 65 dive sites around Turneffe Atoll and are within an hour's boat ride to the Blue Hole. At Turneffe Flats, we provide true valet dive service. Our staff will wash and set up your equipment on the dive boat each day. All you need to do is walk to the dive boat after a delicious breakfast and head out to one of our exceptional dive sites.

Our Dive Locations
As the largest and most biologically diverse coral atoll in the Caribbean, Turneffe offers dramatic underwater features including spur-and-groove formations, sandy ledges and sheer walls that provide spectacular diving sites for every ability. Our location, near the middle of the seaward side of the atoll, allows convenient access to all of Turneffe's dive sites. Our guests always have the opportunity to dive into great sites each day regardless of the weather.
The eastern side of Turneffe is protected by 35 miles of reef. It shelves gradually to about 60 feet, where spur-and-groove formations meet the wall. Nutrients from the mangroves are dispersed to the reef by the tides causing large concentrations of feeding fish to congregate.

The Blue Hole & Lighthouse Reef
A highlight of any dive vacation in Belize is a trip to the Blue Hole and Lighthouse Atoll. Our location offers excellent access to the Blue Hole. Weather permitting, a weekly trip to the famed Blue Hole is a standard part of our Dive Program. This is a full-day trip with the initial dive at the Blue Hole, which is generally followed by the Half Moon Wall and the Aquarium. A midday stop at Half Moon Caye for a picnic lunch and a visit to the Red-Footed Boobie Bird Sanctuary is also a highlight.

Dive Safety
Your dive safety is of the utmost importance at Turneffe Flats. For this reason, and to ensure that you see the best of the marine life, a qualified divemaster and/or instructor is in the water at all times. We use the buddy system, conduct safety stops on every dive and plan adequate surface intervals between dives. Our staff is trained in First Aid and Oxygen First Aid and we are affiliated with Subaquatic Safety Services which operates the Hyperbaric Chamber in Belize.

Nitrox
Nitrox is available as well as Nitrox Certification.

SNORKELING / ATOLL ADVENTURE
Explore all of the wonders and the beauty of Turneffe Atoll, including the finest reef snorkeling in the entire Caribbean. Our unique marine eco-adventures feature world-class snorkeling, birding, wildlife sightseeing, plus several other fun and informative activities. If you prefer, you also can stay at the resort and lounge at the pool or on our beach. Every day offers both a great new adventure and a perfect opportunity to relax - that's what our Atoll Adventure is all about.

Turneffe Atoll offers multiple world-class snorkeling sites and our guides know all of them well. You can expect to see a wide variety of tropical reef fishes, rays, sea turtles, lobsters, dolphins and possibly manatees. While snorkeling, you will always be accompanied by one of our experienced Atoll Adventure guides who are masters at helping even novice snorkelers feel comfortable in the water. They will make sure that your equipment fits and will teach you the best snorkeling techniques. They know where to find all of the interesting creatures and will ensure that you make the most of your snorkeling adventure.

DOLPHINS & MANATEES
Enjoy touring the atoll in search of bottlenose and spotted dolphins. Numerous pods cruise the shallow water throughout the atoll using their sonar system to hunt for fish and crustaceans buried in the sand. Often they are attracted by the sound of an engine and will suddenly pop up near the boat to have a look.

BIRDING
More than 60 species of birds have been identified on Turneffe Atoll with the following commonly seen: snowy egret, little blue heron, great blue heron, tricolored heron, yellow-crowned night heron, clapper rail, mangrove swallow, brown pelican, magnificent frigate bird, double-crested cormorant, osprey, mangrove warbler, great-tailed grackle, golden fronted woodpecker, tropical mockingbird, cinnamon hummingbird, green breasted mango, hooded oriole, white-crowned pigeon and royal tern.

FLATS WALKING TOUR
Just inside the fringe reef, along the seaward side of the atoll are miles of shallow, gin-clear flats. This is the area where fly fishing anglers search for bonefish and permits, and the flats are alive with sea creatures of all sorts. With a discerning eye and the aid of your guide, you will likely see schools of bonefish, permit, trunk (box) fish, barracuda, small rays, snappers and even small sharks. In the surf, you can sometimes see large parrotfish or triggerfish with their backs half out of the water.

More Adventures
- Maya & Turneffe
-Belizean Cooking class
- Discover Scuba diving
-Mainland Tours





Inquire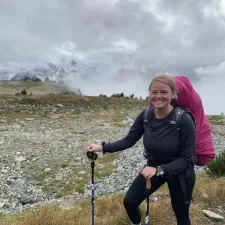 We Love to Talk Travel
Call
1.800.344.6118
or
Chat Now
Our guide and driver were very good with their knowledge and were very helpful with our questions. It was a very pleasant visit that would have been impossible to do on our own. Hotels and restaurants were fantastic. The special places we got to go to, like the kitchens, were great. Enjoyed the entire trip!
Meyer Smolen