Cambodia has a tropical climate and is one of the few Southeast Asia countries that boasts a fairly consistent climate making it a year-round destination for travel.
The best time to travel to Cambodia is in the wet season between June and early September or in the dry, cool season between November and February, depending on what your goals are while abroad.
The most popular time to visit is in the dry season between November and May but at certain times the heat can be extreme. The wet season, between May and October, is a less popular time to visit and offers both advantages and challenges while exploring
Cambodia
.
At a Glance:
Dry Season: November-MayCool Season: November-FebruaryHot Season: March-JuneWet (monsoon) Season: May-October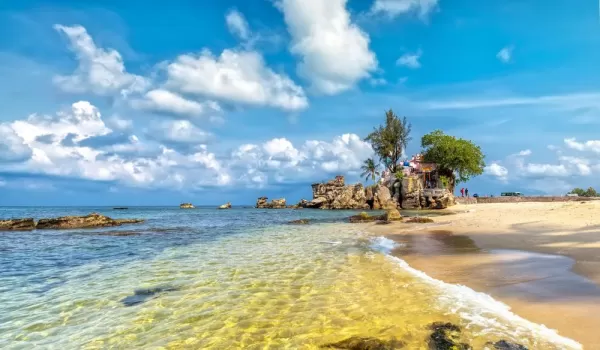 The Dry Season
The dry season spans from November to May, which itself further subdivided into a cool season and a hot season. If you're interested in taking a
Mekong River cruise
, the best time to do that activity is between November and January, in the dry season.
The Cool Season
The cool season between November and February has the best weather in
Cambodia
, with especially ideal weather between December and January.
This is the best time to go to Cambodia weather-wise, but the drawback comes from the huge mobs of tourists.
At this time the averages are between 70-86℉ (21-30℃). This temperature is perfect for a nice beach day or an extended hike through the jungles of Cambodia. This is the most popular time of the year for tourism though because it coincides with many country's winter vacations. The result of this is lodging and activity prices seem to reach their peak and temples can be extremely crowded. It's highly recommended that if you plan to come this season you book your lodging at least a few months in advance as the popular places to stay can fill up quite quickly. During the cool season is also the best time to take a Mekong River cruise as it's not too hot or rainy to enjoy it.
The Hot Season
The hot season between March and June is just that, extremely hot and humid.
This is the worst time to go to Cambodia
as crowds have barely gone down, the extreme heat can be taxing, and there are occasional rain showers that last for an hour on average. April and May are the hottest months of the year and temperatures can get up to 95℉ (35℃). This may not seem
that
bad but the humidity is extreme and can be a real burden while trying to walk the streets, explore the temples with no ventilation, and go on a hike. Although this time of the year has the perfect beach weather, more or less forcing you to go for a swim, this is considered the worst time to go as the heat will take a lot out of you while trying to explore all the other things that make Cambodia such a great travel destination.
The Wet Season
The wet season spans between May and October and rains can happen up to twenty days in a month. This may seem extreme, but it's really not all that bad because the rains usually only last for about an hour and if you bring a light raincoat or rain poncho with you, the rain really shouldn't be an issue.
The best time to go to Cambodia is during the rainy season is between June and early September
as the rains won't be quite as bad and the temperature will be drastically cooler when compared to the hot season. The advantages of going in this season are the average temperature is between 77-80.6℉ (25-27℃), there are not many visitors in this season so it's a perfect time to explore temples, appreciate the beautiful greenery of the country, and the opportunity to visit the flooded forest and stilted homes of
Tonle Sap Lake
. Additionally, during mid-September and October traveling to remote areas of Cambodia can be treacherous because the roads can flood in this season.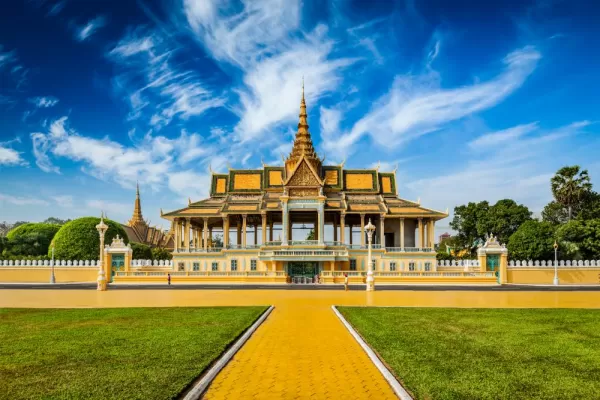 Cambodia Weather
| | | |
| --- | --- | --- |
| Month | Phnom Penh Avg Temperature ℉ (℃) | Phnom Penh Avg Rainfall in (mm) |
| January | 79 (26) | 0.3 (7) |
| February | 81 (27) | 0.4 (10) |
| March | 84 (29) | 1.6 (40) |
| April | 88 (31) | 3 (75) |
| May | 86 (30) | 5.3 (135) |
| June | 84 (29) | 6.1 (155) |
| July | 82 (28) | 6.7 (170) |
| August | 84 (29) | 6.3 (160) |
| September | 82 (28) | 8.9 (225) |
| October | 81 (27) | 10 (255) |
| November | 81 (27) | 4.9 (125) |
| December | 79 (26) | 1.8 (45) |
If you want to plan a trip to Cambodia or combine it with a trip to
Vietnam
on a
Mekong River
cruise, contact our travel experts at
Adventure Life
now! They'll help you plan the perfect trip.