Food in the British Virgin Islands offers a number of varied influences. Though some of the local flavor was first brought to the table by early immigrants, or even by indentured servants, from places such as the Indies and from China, contemporary influences from around the world do continue.

As one might expect, fish is one of the mainstays for the islanders, with fish soup and dumplings being a local favorite. Another mainstay, the previously mentioned fungi, takes on a few variations with added ingredients such as okra, or even the day's catch of crab or lobster. Overall, the local fare is highly seasoned.

Along with local fare, one can find a wide and varied menu of imported foods. In recent years, tourists have also had a large influence on the food of the BVI, bringing more American and other favorites to the plate. Locally made rum is a preferred drink when on the islands.
Want to Go?
destination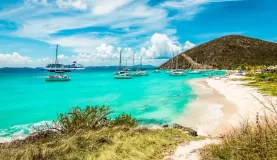 region