Barbados measures 21 miles (34 km) long and up to 14 miles (23 km) wide in the south, with an area of 166 square miles (430 square km). Trinidad is much larger, and Trinidad & Tobago together total 1,980 square miles (5130 square km), with Trinidad representing more than 90% of the area.

Barbados, the most easterly island in the Lesser Antilles, is relatively flat. Its highest mountain is the 1,120 feet (340 meters) high Mount Hillaby. The capital and main population center is Bridgetown, and the island's population is estimated to be about 287,000. Coral reefs surround much of the island, and there are many limestone caves in the north east as well as limestone stacks on the east coast.

Trinidad lies less than seven miles (11 km) off the coast of Venezuela. It boasts much higher mountains than Barbados, having its highest point of 3,084feet (940 meters) in the north, at El Cerro del Aripo. The nation's capital is Port of Spain in Trinidad, while Tobago's largest town is Scarborough. Trinidad & Tobago's population stands at just over 1.2 million.
Want to Go?
destination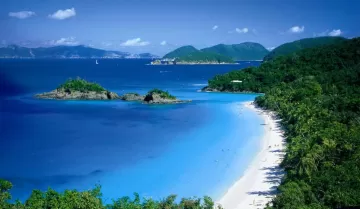 region