Inhabitants of Martinique are French citizens and represent themselves in the French national Assembly and the French Senate. Dominica is a parliamentary democracy presides over by a head of state and with a prime minister to lead a government cabinet.

Saint Lucia is a Commonwealth realm with Queen Elizabeth the 2nd as head of State. It is a two party democracy with a government cabinet holds executive power and is led by a Prime Minster.
Saint Lucia also has an eleven member senate.

Saint Vincent and the Grenadines is a sovereign parliamentary democracy and Commonwealth Realm. A Governor General represents the head of state, Elizabeth the second. A prime minster heads up the government cabinet. The government is comprised of two political parties; the New Democratic Party and the Unity Labor Party.

Grenada has a multi-party democracy and government headed by a Prime Minister. Grenada is also a commonwealth realm with Elizabeth the second as head of state and a jurisprudence based on English law. The two main political parties are the National Democratic Congress (liberal) and the New National Party (conservative).
Want to Go?
region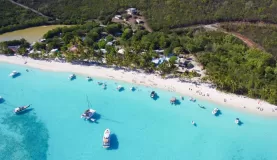 destination