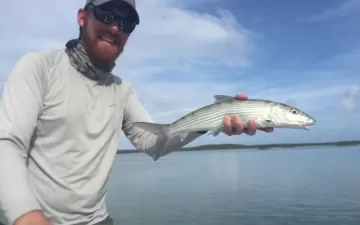 We couldn't come to the Bahamas without a few days of fishing! Our first afternoon on Harbour Island, we wandered out into the flats just north of town and saw a huge bonefish swimming right up to us! Of course, we didn't have our fishing gear and when we returned later the tides had changed and the flat was dry. We would have to come back again another afternoon.
We booked a couple half-days with Stuart Cleare, aka Bonefish Stuart, so we could fish areas that weren't fished to on a daily basis. The first day, he picked us up on his skiff and took us south of Harbour Island and fished along shore and in a deep, small lagoon set back behind a couple houses. Stuart cut the engine and climbed up on the back of his boat on the large platform. He slowly, calmly poled along shore with a long push-pole. It is such a peaceful way to fish, and from that vantage point he can see down into the water and spot fish long before I could see them. We fished to a school of bonefish in the lagoon, and Evan caught a few bonefish that day.
The second morning, Stuart took us north-east of Harbour Island, to an area filled with mangroves, small beaches and perfect salt flats. Right after Evan caught his first fish and before we could release it a lemon shark started circling our skiff. It was about 4-5 feet long, and wanted that bonefish! We couldn't just release it so we netted it and let it breath (removing it quickly when the shark came too close). Stuart spent at least 10 minutes trying to scare the shark off with his push pole until we finally found a safe spot in only a few inches of water. The bonefish could rest and build its strength where the water was too shallow for the shark. I know the shark wasn't coming after us, but I've never been that close to striking distance of a shark before!
I held off fishing today and just enjoyed the morning. The weather was incredible. There were storms on the horizon but never close, and the water was calm but not hot. Evan and Stuart walked the flats fishing while I sat on the boat and read, took pictures and napped. We tried again to fish the flats just north of town but had no luck. I'm sure those fish get fished to every day of the year. We were just incredibly lucky to see the large bonefish that first afternoon - it never made an appearance again.