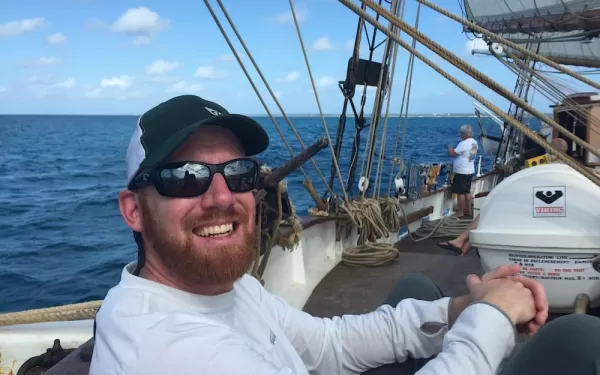 Life onboard the Liberty Clipper was very slow-paced. Jason, the cook from North Carolina was a pretty amazing cook, especially considering how small the galley was on the boat! (Jason even nailed my all my favorite meals, all in one day. We had biscuits and gravy for breakfast, Macaroni and cheese and pulled pork sandwiches for lunch and steak and mashed potatoes for dinner.)
We ate a delicious filling breakfast each morning, and were able to relax with coffee on the deck while we motored or sailed to our next destination. We never really knew what the destination was going to be. And if you asked the crew or the captain where we were going that day, their answer was always the same - "I don't know". This seems to be life on a sailboat, or at least life on this sailboat. We were going to go where the wind would take us, where we felt like exploring and what we felt like doing. Some days we would stop and snorkel for an hour or two, or we'd anchor in a harbor and take the zodiac into a small town or even just a deserted beach where we could explore on our own.
When the wind picked up, we raised the sails (full guest-participation appreciated) and watched the crew in full sailing mode. The crew was mostly young, at least half in their twenties, but their professional communication and efficient execution made it clear they knew what they were doing. They worked well together and seemed to have fun as well. One morning, the wind really kicked up so we quickly ate breakfast and then all helped to raise the sails. We were sailing! All sails were up and full of wind carrying us about 10 knots, which was nearing the top speed for this sailboat. Most of the guests moved to the back of the boat, but Evan and stayed up front, getting sprayed with sea water. We don't get to sail often and we wanted to experience it in full!