We were standing on a platform in a rainforest, in the rain. The fifty year old guy in line ahead of us was making jokes about how little kids do it and grandmas do it, trying to get me to smile. He thought that I was afraid of heights or something, that Pete had dragged me along against my will. He was wrong. Ziplining was my idea. It was the one thing I absolutely wanted to include in our honeymoon adventures in Costa Rica. I wasn't afraid, I was annoyed. At the gloves they had given us which were wet and made my hands cold. At myself for not being tan and toned and Lululemon-y and perfect. At this whole zipline thing not being the workout I had expected it to be. It was just standing in line to get to another platform, then flying down another zipline. No real effort or strength required. In other words, it was simply for fun. And I wasn't letting myself enjoy it because it was easy and I didn't feel like I'd earned it. This was our first vacation together that was just relaxing, as in not a running vacation. I'm no good at relaxation. I struggle with stillness and idleness. A young woman was half joking/half complaining that the trek up the trail and stairs to the safety briefing platform almost killed her. And there I was, the jerk being all impatient and annoyed that we were not running up a mountain and ziplining down it.
But, as so often happens in life, it turned out to be just what I needed. Somewhere in the midst of all the soaring through the trees and traversing hanging bridges in the jungle, I let go of all the things I felt like I should be and just enjoyed being who I am, someone who is lucky enough to be in this beautiful place experiencing these amazing things. And that is Costa Rica for you: it is paradise. And I don't mean paradise as in sunshine and ocean and beaches and rainforest and the best vegetarian nachos I've ever eaten, though it is all those things. It's the lifestyle of Pura Vida (pure life), which is about living a simple, peaceful life, being grateful for friends and family, realizing that life is short but we're all in it together and that, even when bad things happen, we are still lucky to have all we have.
I can't remember how we decided on Costa Rica as our honeymoon destination. We knew we wanted to escape the coldness of winter in Upstate New York and go someplace warm, but due to all of Pete's work travels, we didn't book our honeymoon until 2 weeks before our departure. The awesome folks at
Adventure Life
helped us book a last minute trip with a great itinerary that included a nice mix of included tours as well as free time to make our own plans.
We left home early Saturday morning and flew to Atlanta, then San Jose, Costa Rica. We checked out a nice local park near our hotel, ate some dinner and relaxed in the hot tub. (Oh, and apparently if you want to sell a house, just leave the country. I got one offer on my house on New Year's Eve and a second, higher offer as soon as I left the US.) Sunday morning, a van picked us up at the hotel and drove us to Sarchi, a little town famous for its handcrafted furniture, and then on to La Fortuna and the Arenal Volcano area. Arenal is 5,437ft high and had a major eruption in 1968, followed by a bunch of smaller, less severe eruptions between then and 2010. Now it's pretty quiet but still neat to see. The tour group stopped at the Arenal Volcano observation point, then we spent the afternoon relaxing in the hot springs at Tabacon resort, where we also ate dinner. The rest of the group went back to San Jose but first dropped us off at our hotel for the next two nights, the Arenal Paraiso Resort & Spa.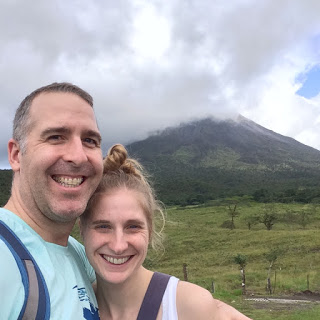 On Monday, we did a hiking tour of the Arenal Volcano with a tour guide named Pierre. The two hour tour took us through areas of rainforest, elfin forest, old lava flows and swamp around the volcano. Pierre's descriptions of the plants and wildlife were hilarious and also made me feel very fortunate to be a human and not the white orchid that only lives for one day or the spider that Pierre pointed to and said "After the love, the female eats the male." He pointed out one particular species of  tree and told us all about how slugs live in that tree and eat its leaves, how they need 7 stomachs to digest their food and how they come down to the ground once a week to "make the poo." Pete and I were both thinking what a long time it must take a slug to ooze its way down a tall tree when Pierre pulled out his guide and pointed to a picture and we suddenly realized he had been saying sloths not slugs. So yeah, it's sloths with the 7 stomachs and the once a week pooping. We did get to see a mama sloth and her baby up high in one of the trees through Pierre's binoculars but sadly it was too far away to get a good picture or to pet (I am kidding of course. I know you're not supposed to pet the nature, but I'm still hoping that somewhere there is a sloth petting zoo that I will get to visit someday).
After the hike, the van dropped us off in La Fortuna. We had driven through the town the day before on the way to Arenal and Pete had noticed a sign that said "Gringo Petes" and he got very excited and said "I'm a gringo Pete!" We thought it was a restaurant or bar and Pete wanted to eat there, but it turned out to be some dude's house with a sign that said "Gringo Petes' Bed & Breakfast: You Make Both." Yes, Petes' not Pete's, so either there are multiple Petes or there is one Pete who hopefully is better at bed & breakfast owning than he is at punctuation.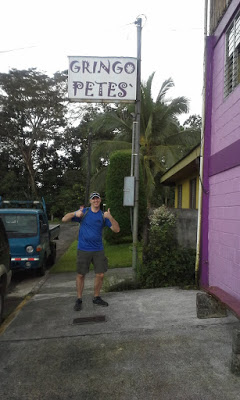 I ate lunch in La Fortuna with my gringo Pete, then we took a taxi back to our hotel. I had seen a sign on the hotel property that said "Sendara La Catarata" which I thought meant that there was a trail to a waterfall. It was next to another sign that said "Dear Guest, hike at your own risk." Which is an invitation if ever I saw one.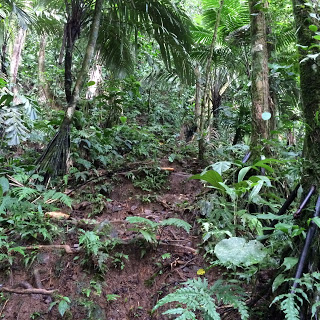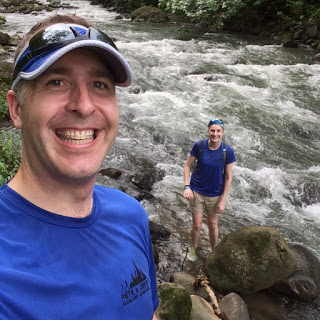 So of course we followed the trail through the rainforest. It was muddy in places and started getting very steep, so we hiked back up and took the other way down which was a little less steep but still a bit precarious. We followed the trail all the way down and ended up at the river. We didn't find any waterfalls but we did get sweaty and muddy. As we made our way back up the trail and to our hotel room (which was like our own little cabin!), it started to rain, which felt great. After we got cleaned up, we ate dinner in the hotel restaurant and then relaxed in the hotel's hotsprings for a bit. Any  hotel with hotsprings on the property is my kind of place! Plus, each day they left increasingly elaborate towel sculptures in our room. The first day it was two swans kissing and the second day they fashioned the towels into a basket shape and put Pete's razor and nail clippers inside.
Tuesday morning, we made our way through the cloud forests to Monteverde by van-boat-van. It was raining. The roads were narrow, winding and bumpy. I don't think there is a more iconic travel experience than the cramped, jostling bus ride. That's how you know you are going someplace worth going. We checked in to the Monteverde Country Lodge. On our way there, I had seen a billboard sign for Don Juan's coffee, chocolate and sugarcane tour and since we had a free afternoon, we decided to go there. The tour was really neat and we got to see how the coffee is grown, harvested and processed. Our guide, Junior, also gave us samples of coffee, artisanal chocolate and shots of freshly squeezed sugarcane juice (Pete did 3 shots, I did 4!). I have never had much of a taste for coffee. I find it all very bitter and can only drink it if it's mixed with half milk, chocolate milk or hot chocolate. As it turns out, I don't dislike coffee, I'm just like a coffee snob or something. We got to taste a high quality light roast coffee made from 100% Arabica coffee beans and it was delicious - slightly sweet and not bitter at all.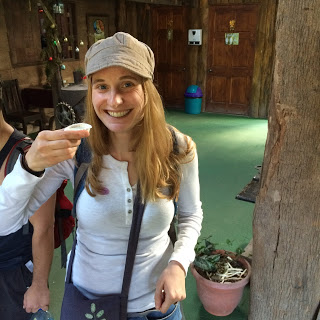 Our hotel in Monteverde had an awesome courtyard with stone staircases that were just begging to be bunny hopped up and spider crawled down (with pushups at the top and bottom!), so I did my own mini Fit1 there early Wednesday morning. Then we did the zipline and hanging bridges.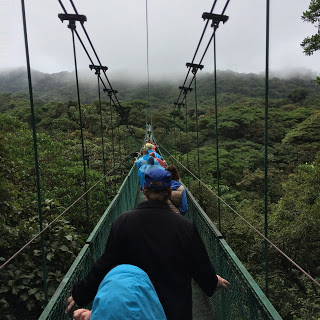 It rained pretty much the entire time we were at the zipline place, but once we got back to the hotel it was sunny so we walked into town, where we ate lunch at the Treehouse Café, one of the top 10 most bizarre restaurants (according to the sign out front).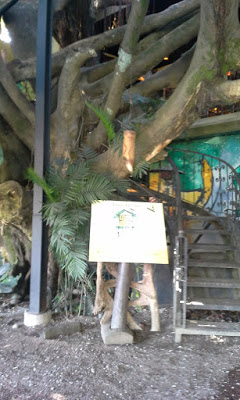 Eating pizza in a treehouse was a dream come true, even though as I feared, the pizza was not very good. The tree and the experience were most excellent though. And every other meal we ate in Costa Rica was fantastic. Both nights in Monteverde, there were wind and rainstorms all through the night. It was awesome! But the weather there was also the coldest, though it was still far warmer than home.
Thursday  morning, a van picked us up for the 3.5 hour ride to Quepos and Manuel Antonio. The views were spectacular, ranging from volcanic mountains to crocodiles to palm trees and ocean views.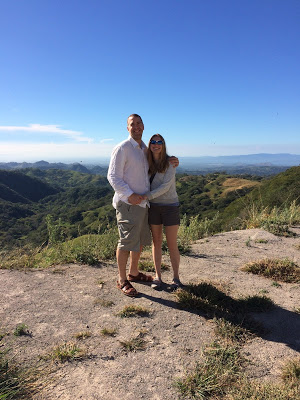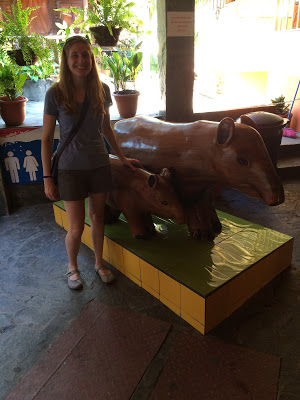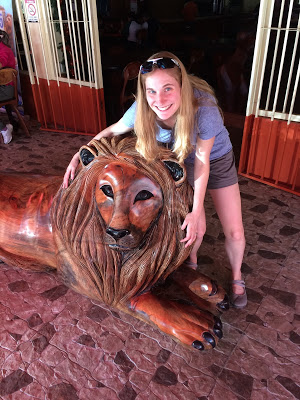 We checked into the Playa Espadilla, which was conveniently located within walking distance to Manuel Antonio National Park and the beach. We ate lunch at Las Gemelas, looking out at the ocean and eating the aforementioned amazing vegetarian nachos (most nachos without meat are just chips with cheese and a few jalapenos but these nachos had actual vegetables on them! It was an exciting day in the life of my mouth, for sure). And sweating profusely. It was 85 degrees, feels like 97! Later we swam in the hotel pool and ate dinner. 
Friday we went white water rafting on the Saverge River. It was hot and sunny and we got soaking wet, which was awesome. It was another bumpy van ride on winding dirt/rock roads with signs along the way that said "Don't worry, you're not lost," then later "The bad road ends" and "Good times begin." Which is as true of the road as it is of life. The rafting company, Amigos Del Rio, fed us a delicious breakfast beforehand and a delicious lunch afterwards. Pete and I spent the afternoon on the beach and in the ocean, then ate dinner in town. The restaurant had an appetizer called "Mad Potatoes" so of course I had to find out what that was all about. I mean, are the potatoes mad as in angry or mad as in scientist? They were tasty but I think they should be called bad potatoes because I had bad dreams that night. Still worth it though.
Saturday morning Pete and I hiked in Manuel Antonio National Park. There are options to pay more for guided tours but you can also just pay the $16 entrance fee and do your own thing, which we did. What you cannot do is bring Pringles or Lucky Strikes cigarettes into the park, a fact we learned as we saw them being confiscated from the couple ahead of us in line. The park was amazing! We hiked to two different beaches and saw tons of monkeys!!!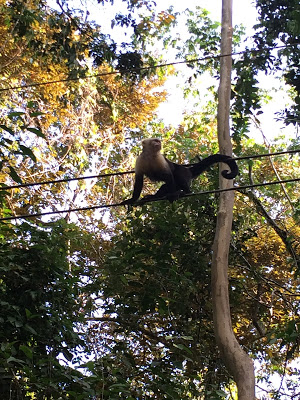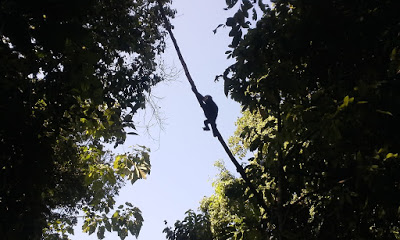 Saturday afternoon, we went on a boat cruise with Dolphin Planet, where we swam, Pete snorkled, we both jumped off the top deck of the boat into the water and I went down the boat's waterslide! The presence of a waterslide made up for the fact that the food they served on the boat was fish kebobs, which I did not eat. I did drink pineapple juice and that was good. 
Pete and I had a wonderful time in Costa Rica. We didn't take many pictures, we just enjoyed spending time together and relaxing. I would love to go back someday and spend more time in Manuel Antonio. It was my favorite of all the places we stayed, because the beds were the softest and it was the warmest, beachiest and most monkey filled. This was my second trip with Adventure Life Tours (Emelyn and I went to the Galapagos Islands through them in 2010) and I would highly recommend them. The only downside to Costa Rica is that, while the food is excellent, the dessert is pretty terrible. Even the helados (ice cream) is no good. But hey, any place I can zipline through the rainforest and run barefoot on the beach (in January!) and eat all the rice, beans, plantains, guacamole and chips is my kind of place. And the guy who will go on any adventure with me, whether it's hiking at our own risk or jumping off boats or doing shots of sugarcane, is my kind of husband.