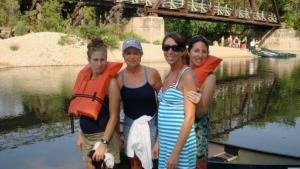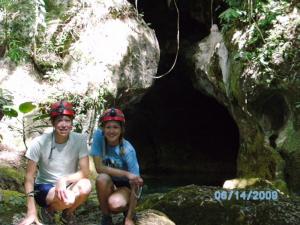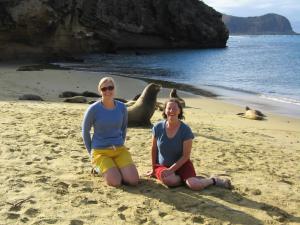 Dear Mom,
I'll get right to the point. Today I'm using all tools at my disposal, including the Adventure Life blog, to appeal to you to finally take that mother-daughter trip with me to
Patagonia
. With Mother's Day approaching this weekend, I thought the timing was right -- thematically anyway. Also, you are probably wondering why the card I sent has a picture of Torres del Paine on the front. Well, this explains it.
We've been toying with the idea for a while, but it's time to make it happen. Don't worry, we have plenty of time to plan. The best time to visit Patagonia is during our winter season, so I was thinking we could sneak away in early December when the weather in Patagonia is cooperating and there isn't a chance your golf course will be open. (Mom, we'll discuss your golf addiction later.) And Mom, we're going to
hike the W circuit
.
Here's my pitch:
Chile's Torres del Paine National Park offers granite peaks, enormous glaciers, waterfalls, turquoise lakes and temperate rainforests -- this is the backdrop for our trek. We'll never get any higher in elevation than about 3700 feet, so don't worry about altitude sickness. For the most part, the W circuit avoids the difficult and taxing routes in the park except for the last section to the Torres. But hey, you teach first-graders -- "difficult" and "taxing" are part of your everyday vocabulary.
Base camp will be EcoCamp; it's domes are designed to respect the surrounding environment and also to interfere as little as possible with the natural beauty of the park. And yes, there's wine.
We'll leave the notorious homebody (also known as Dad) in his favorite spot - he has his yoga and
Michael Pollen
to keep him company.
Everyone's doing it. Adventure Lifers Julia, Kassi, Marissa and Mary have already taken their moms on trips to the Galapagos, Belize, Costa Rica and Panama. I'd happily put you in touch with one of them as a reference to testify that this whole mother-daughter trip-thing is right up our alley. Julia and her mom did a mainland
Galapagos multisport
trip that included 9 days of snorkeling, horseback riding, mountain biking and hiking. Marissa and her mom took to the jungles and beaches of
Belize
for great caving and snorkeling. Come on Mom, you're making me look bad.
If I haven't sold Patagonia to you, then you pick the place. After all, the destination is only part of the package; quite honestly I'm really looking forward to the good company ...
Wishing you -- and all the patient, understanding, good-humored and loving moms out there -- a very Happy Mother's Day.
Love,
Beth