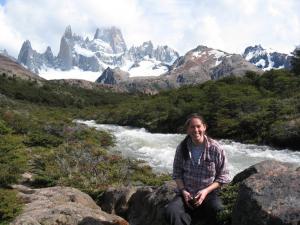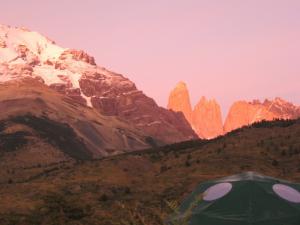 South America's Andes are the world's longest continental mountain range, stretching 4300 miles long the west coast of the continent. Starting in Venezuela, the Andes extend through Columbia, Ecuador, Peru, Bolivia, Chile and Argentina, reaching its highest peak, Cerro Aconcagua, in Argentina at a breathtaking 22,841 feet.
Missoula, in Montana's Rockies -- where I rest my head at the end of the day -- is at about 3200 ft above sea level. When I hiked the Inca Trail, two of my travel companions came from the Florida coast; you just don't get any closer to sea level than that. While we were definitely mindful of the high elevation, and certainly huffed and puffed our way along the trail and through its 9,000-14,000 foot passes, altitude sickness was not a problem for any of the trekkers in our group. But this is not always the case. Don't worry, if the altitude makes you wary, there are great options out there.
If you're looking for fantastic Andes trekking, but in a lower elevation, look towards Patagonia. The circuits are remote and captivating, and the landscape is legendary. Both the popular Fitz Roy Range in Argentina and the "W" Circuit in Torres del Paine are excellent options for low elevation, multi-day treks.
For the
Fitz Roy Trek
, the highest elevation on the most popular route is near De los Tres Lagoon – at about 1200m (3900 ft). This 4-day
Patagonia tour
through glaciated landscape averages 7 to 9 hours of hiking a day, cover anywhere between 11 to 15 miles each day. This hike also includes a trek across the Torre Glacier.
On the W circuit in Chile's
Torres del Paine
, your highest elevation will be in French Valley at 1100m (3608ft). If you like, this portion of the trek can be replaced with another trail for a less taxing hike. The W circuit for the most part avoids the difficult and taxing routes except for the last section to the Torres. The W circuit is one of the most accommodating, fitting the needs of hikers who want to trek all day, or those looking for a more relaxed pace.
A few more notes on high elevation trekking:
The good news is that the majority of those who experience altitude sickness find it relatively mild and limiting — NOT debilitating. And symptoms usually decline as altitude acclimatization occurs. All in all, don't be afraid, be smart. Coming prepared, and recognizing the signs are the best ways to combat altitude sickness. Here are some
tips on avoiding altitude sickness
.ng